As Donetsk celebrates the city under occupation: the fake show and the characters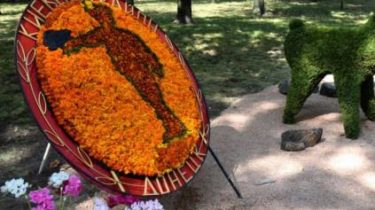 Occupied Donetsk celebrates the city day.
"We have to remember you and aggressively fight for your return to Ukraine. I am convinced that the Ukrainian anthem will sound again in our Donetsk!", – wrote in his Twitter President Poroshenko.
As reported in the story TSN.Week, meanwhile, in the town the invaders and their puppets handing out fake orders, fraternizing with alexbank Simferopol, as well as talk about achievements almost destroyed their coal industry.
Local separatist TV channels show a celebration and an achievement of fake Republic. Even on the eve of the occupation authorities in the spirit of Soviet times was handing out amusing awards and boasted of the achievements of the industry. Surprisingly sober in the morning the leader of the terrorist "DNR" Zakharchenko Donetsk was awarded the title of "hero City". In the Central square on the day of Donetsk presented the municipal vehicles! In the exhibition of decorative arts took part more than six manufacturers. In the so-called DNR finally learned how to grow tomatoes in greenhouses pressed to make chain mail on pressed plants and sew tag "DNR" in school blazers.
See also:
Russian FSB deploys on the border of the car with the numbers "DNR"
"Mine finally come in the state to operate and there's nobody cares for the lives, for the safety of miners. Salary not yet paid in full for may and this salary is 2-3 times lower than in the territory controlled by the Ukrainian authorities", – said Mikhail Volynets, head of the independent trade Union of miners of Ukraine.
But fake surveys separatist TV channels again and again convince the audience that to work for peanuts without basic safety is a very honorable thing. Over the occasion of miner's day and city day for Shakhtar in different ways. Those who remained hostage in the occupied territories, promised fireworks and a festive concert with participation of Russian performers. Those who are called immigrants, will celebrate this holiday in new homes, but with the Ukrainian Donetsk in the heart.
Konstantin Pavlov
Priznaytes to TSN from Viber that atribuite
nivalis news just the messenger!
Comments
comments