The court permitted the NAB to withdraw the documents, NTRAK in MPs Dubravica media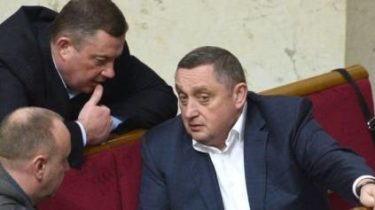 Detectives of the National anti-corruption Bureau has got permission for withdrawal of original documents in the possession of NTRAK, and can be a direct evidence regarding manipulation of the amount of subsidised gas to Novoyavorovskoe CHP, the beneficial owners of which are members of the Bogdan and Yaroslav Dubnevichi. About it writes the edition "Nashi Groshi citing the decision of Solomenskiy district court of Kiev from August 21, 2017.
The consequence of suspects employees of OOO NPP "Energy-novoiavorivs'k" and OOO "Energy-New Section" in the application of "Naftogaz of Ukraine" losses amounting to more than 775 million.
See also:
Firms of deputies-millionaires Dubravica received orders billion budgetary hryvnias
However, according to the latest motions of NABOO, during the years 2013-2015 of the company Dubravica inflicted to Naftogaz damage for twice the amount of 1.43 billion. The consequence suspects the officials of these companies in illegal acquisition of 308 million m3 of gas utilities.
Law enforcers say that "Energy-Novoyavorivsk" within a specified period of time used outside the target destination 128 million m3 of gas, than put "Naftogaz" losses in excess of 623 million UAH (in 2013 the firm underpaid – UAH 128 million for 38 million m3 of gas, in 2014 – UAH 126 million for 30 million m3, in 2015 – UAH 369 million for 59 million m3).
The court found reasonable links of detective NABS that temporary access to the documents, NTRAK, and the possibility of their withdrawal, will promote anti-corruption Bureau to conduct preliminary investigation. In the future, investigators can use the documents as direct evidence in criminal proceedings.
We are talking about forms of reporting and revised reporting forms (monthly and quarterly), which are "Energy-novoiavorivs'k" was served in NTRAK for 2014-2015.
The NAB is investigating the scheme, based on the difference in rates for different categories of consumers of gas, "Naftogaz of Ukraine". Law enforcement officers suspect that "Energy-a New Section" and SPE "Energiya-novoiavorivs'k", which have Novoyavorovskoe and Novorjazanskoe TPP in Lviv region, used discount gas for electricity production, which is then sold on the wholesale market.
In April the media reported on the searches of the offices of most companies, which belong to or are under the control of the brothers Dubravica, in particular, the "Corporation "KRT"," which NABS suspects in large-scale abuse "uz", and "FC "Energy-invest"" and ""AMS" Lvivske".
Priznaytes to TSN from Viber that atribuite
nivalis news just the messenger!
Comments
comments