"I'm going to work": Lutsenko in August will receive almost 100 thousand UAH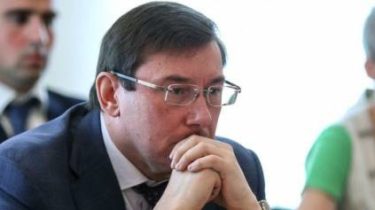 The General Prosecutor of Ukraine Yury Lutsenko considers the fair decision of the Verkhovna Rada and the government increased the salaries of prosecutors.
About this he wrote on his page in Facebook.
According to Lutsenko, the Prosecutor of the Prosecutor General, depending on seniority, will receive 20 to 34 thousand UAH (16-23 thousands), the Prosecutor of regional and local – 14-26 thousand UAH (was 9-14 million).
The public Prosecutor in August will receive 94 thousand UAH (up 49 thousand), but Lutsenko believes that it is the money fulfills.
"You know, it's a lot. Think I'm going to work out. And I decided every month 24 thousand to allocate to charity for the wounded in ATO", – wrote Lutsenko.
See also:
PGO investigates new criminal cases against MPs and current Ministers.
As evidence of the performance of the prosecution Lutsenko gave the following statistics: last year, police found and sent to court 1739 corrupt officials and returned to the budget 10 billion UAH. For the first half of 2017, the prosecutors sent to the court 1202 corrupt and replenished the budget of 45 billion UAH.
Since the beginning of my tenure as attorney General, I stated that the increase of salaries of prosecutors is possible only after the significant act…
Published by Yuriy Lutsenko on August 30, 2017
Earlier it was reported that the Cabinet of Ministers set the amount of salary of the attorney General in the amount of 37 thousand UAH is 59.2 per thousand identified earlier. The salary of the Deputy Lutsenko is of 34 thousand UAH, and Vice – 32 thousand UAH, instead of the 50.6 million and 47,36 thousand UAH respectively.
However, the government has increased the salaries of other officers of the Prosecutor's office. In particular, we are talking about the head of the General Prosecutor's office with about 3.6 thousand to 10 thousand UAH; Deputy chief military Prosecutor and Deputy chief of the Department – about 3.4 thousand to 9.7 thousand.
Priznaytes to TSN from Viber that atribuite
nivalis news just the messenger!
Comments
comments