Car owners on avtonomera announced the completion of a protest under the Rada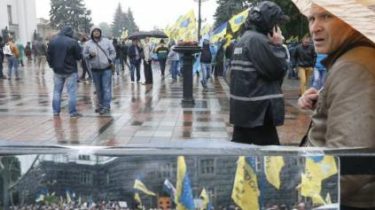 The participants of the protest action of motorists near the building of Verkhovna Rada announced on its completion.
They declared from the stage near the main entrance to the Parliament, UNIAN reports.
It is noted that the representatives who have gathered here, go home.
The protesters stressed that it is a collective decision of the coordinators of the areas.
Meanwhile, on the Constitution square is about 200 protesters, and the stage performances are continuing. Their sticks and drums, in which the Protestants were beaten, was almost on the steps of Parliament — overseas law enforcement agencies.
According to some information, law enforcement took them from the protesters after the protesters allegedly doused with gasoline brought the bus.
The stage was also announced that the Parliament will establish a working group to consider the problems of motorists.
See also:
The second day of the protest. Hundreds of "euroshare" slept in the car in the government quarter
Comments
comments