During the annual address to Parliament, Poroshenko said the economic growth bezviz and "predatory Horde"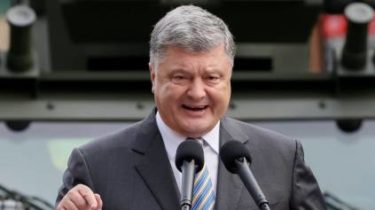 Ukraine has climbed out of a deep, deadly economic and political precipice, but over it hangs the "evil Horde".
This was during the annual address in the Verkhovna Rada, said the President of Ukraine Petro Poroshenko, referring to the "predatory Horde" Russia. This writes UNIAN.
"We got out of the deep, deadly abyss is our obvious achievement. Clearly see the distant until the vertex you have to conquer, is our big goal. And we are still close to the edge, can make mistakes and stumble. Only one false step and we are back down… This is our biggest risk. Due to pass over us hangs a predatory Horde is dangerous and the long – term threat," he said.
The President stressed that the Association Agreement and bezviz with the EU indicate a change of geopolitical and civilisational coordinates of Ukraine. He recalled that recently entered into force the Agreement.
"Due to the fact that the EU last year agreed to a temporary application, we can enjoy these preliminary results, growth of our exports to the EU" – said Poroshenko.
In the first half of the growth was almost 23%. The EU share in foreign trade of Ukraine is 40%. And in 2012 it grew by 10%.
"This indicates the beginning of the process of integration of Ukrainian economy to the EU market. And with bezveza is about changing our geopolitical and civilizational coordinates. The introduction of visa-free travel is the main result of three years of the reform work of all branches of government and society," the President said.
Poroshenko also spoke about the challenges for Ukraine.
Priznaytes to TSN from Viber that atribuite
nivalis news just the messenger!
Comments
comments