Poklonskaya responded sharply to the statement of Vladimir Zhirinovsky about sexual frustration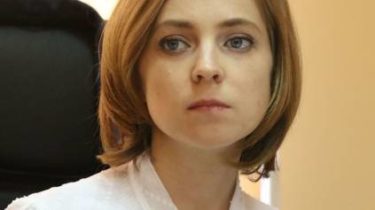 The so-called member of the "Duma" Natalia Poklonskaya responded to the statement of LDPR leader Vladimir Zhirinovsky in relation to their sexual dissatisfaction.
She stated RBC.
"I, on the fraudulent use of public money, and to me, about "sexual frustration". Who it hurts?", – outraged Poklonskaya.
In relation to the statements of policy on communication of sexual dissatisfaction with work in the field of politics and art, Poklonskaya said that on her account he "guessed wrong". She suggested Zhirinovsky to pay attention to your own condition.
"Better think about whether all pleased with you, allowing yourself to slip into a discussion of their colleagues using phrases such "below the belt", she said to the leader of the LDPR.
According to Poklonski, it is noteworthy that the September Zhirinovsky began with making a list of "weak politicians".
"First this list "Zhirinovsky" were the Minister of foreign Affairs of Russia Sergey Lavrov, whose resignation he demanded, and then our Holy Emperor Nicholas II. It is difficult to know what environmental or other factors influence this vision of the history and current situation," she said.
See also:
Poklonskaya said the information about the participation in presidential election
Recall, September 6, Zhirinovsky made in the program A-Team on radio station "Echo of Moscow". Asked the host about "what happens" with Polonskaya, he said that "wherever there is some action in art, in politics, in art – everywhere there is sexual dissatisfaction".
He also said that Emperor Nicholas II "weak cowardly pussy" and promised to talk to Poklonskaya.
Priznaytes to TSN from Viber that atribuite
nivalis news just the messenger!
Comments
comments