"The threat to life is clear". Doctors have described the condition of the victim during explosion in Kiev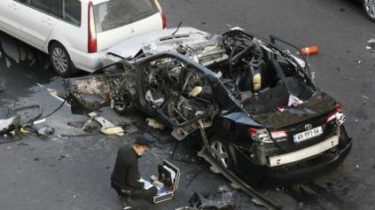 Injured during a car explosion in the center of Kiev is still in surgery, she is in a serious condition. Comments about this TSN reported the head of the Department of polytrauma 17th hospital Dmitry Myasnikov.
According to him, the victim of numerous injuries. She is in serious condition, the operation is still ongoing.
The woman got to the hospital at 18.40, immediately in the surgery Department. The victim operates with just three teams. She was diagnosed with combined injuries.
See also:
Injured in the explosion was a famous model Dior – volunteer
"The threat to lives is clear," – says the doctor.
The victim in the explosion of a thermal injury, bone injury and soft tissue injuries to the face, eyes and skeletal injuries. Predictions about the patient's doctors do not give.
The TSN reporter Oksana Mulyar.
On the evening of 8 September in the center of Kiev near Bessarabian market , an explosion occurred in a car Toyota Camry with Georgian license plates. In the car were three people. As a result of the incident killed a man. The police found that he was a citizen of Georgia Temur Makhauri. Security forces link him with the Chechen community. In 2017, he was detained in Kiev for illegal storage of the weapon, but the man was freed in a plea deal. Makhauri is called "personal enemy" leader of Chechnya, Ramzan Kadyrov.
Also as a result of the incident injured the woman and child. For the life of the first of these fighting doctors, she is in Kyiv hospital No. 17. The child was hospitalized in the "Hospital". Her life is not in danger.
Police opened a criminal case under part 2 of article 115 of the criminal code – deliberate murder committed socially dangerous way. According to preliminary information, law enforcement officers, the explosive device was laid in the vehicle.
In Kiev introduced a stronger version of service: policing and patrolling of the city will involve all divisions of the Metropolitan police.
Security forces strengthen security measures in the Central part of the city, as well as the stations and subway cars, railway stations and in places of mass stay of citizens.
Priznaytes to TSN from Viber that atribuite
nivalis news just the messenger!
Comments
comments