Saakashvili said that the case against him was initiated by Putin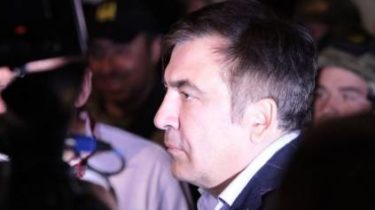 The former head of the Odessa regional state administration, Mikheil Saakashvili, who said that he stole the passport, I am convinced that the criminal case for which he was deprived of the citizenship of Ukraine, initiated by the President of the Russian Federation.
He said this during a press conference before journalists at the hotel "Leopolis" in Lviv.
In addition, the politician said that the President of Ukraine Petro Poroshenko may "execute Putin's order" to try to extradite him to Russia.
See also:
Saakashvili announced a big tour around Ukraine
"I know that Poroshenko arrived in Georgia and agreed with Ivanishvili, the main private shareholder of Russian Gazprom, to agree together to conduct criminal proceedings against me.
These cases are not recognised by any country in the world, Interpol refused them. The Ukrainian GPU has denied the Georgian side to extradite two years ago, because it's politics and Ukraine does not recognize these things, as well as other civilized world. What has changed except that I don't like Poroshenko?
These things – they are initiated by Vladimir Putin. If Poroshenko, who does business with Medvedchuk, the godfather Putin, who has a joint business with Akhmetov, if he executes the orders of Putin and wants to arrest me and give real Russia – it's his decision," – said the third President of Georgia.
We will remind, the Ukrainian citizenship, Saakashvili gave his decree the President of Ukraine Petro Poroshenko at the end of may 2015. On the eve of getting a Ukrainian passport he was appointed head of the Odessa regional state administration. In December 2015, it was deprived of Georgian citizenship. At the head of the Odessa region , Saakashvili worked for a year and a half, after which he announced his resignation, accusing the President of violating the promises and progress to senior positions in the regional administrations of the "old corrupt".
Then the former President of Georgia announced the creation of their own political powerwhich will go on elections to the Ukrainian Parliament. In Georgia the politician is charged with four criminal counts. He faces up to 11 years of imprisonment.
Deprived of citizenship , Saakashvili in late July, when he was outside Ukraine. He is a politician promised to return September 10. He entered the territory of Ukraine through KP "shehyni" that in Lviv region, although I was going to make it through KP "" that in the Lviv region. To the border he got on the bus.
At first he tried to cross the border by train intercity "Przemysl – Kyiv", but he was detained because of "osob that has no grounds for entry into Ukraine".
The state border service of Ukraine announced a breakthrough in the checkpoint "shehyni", in which Mikheil Saakashvili arrived to Ukraine, massive illegal violation of the state border.
Currently, Saakashvili is located in Lviv.
Priznaytes to TSN from Viber that atribuite
nivalis news just the messenger!
Comments
comments