Near the Sevastopol square in Kyiv, an accident involving a minibus and a trolley bus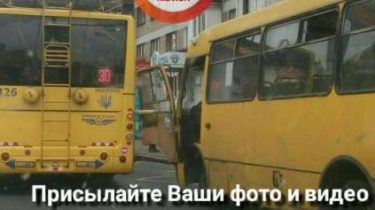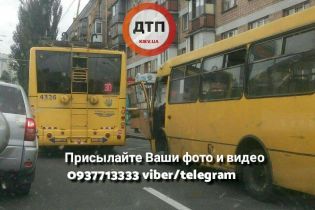 On Chokolovsky Boulevard at exit Sevastopol area occurred accident.
It is reported dtp.kiev.ua in Facebook.
According to preliminary information, the bus caught the door of the taxi and damaged it.
The circumstances and causes of the accident are still unknown.
As a result of collision nobody has suffered.
Participants of accident waiting police patrol.
Accident in Kiev now. Chokolovskiy Boulevard with Congress on the Sevastopol area. Participants trolleybus and minibus so…
Published dtp.kiev.ua 13 Sep 2017
See also:
Pechersk on the capital bus rammed the trolley
We will remind, in Kiev, Desnyanskiy area under the wheels of the Volkswagen Passat hit a trolleybus driver, who came to fix the rod. As noted, the tragedy occurred on the night on the Avenue Vatutina (Shukhevych). At the service of the trolley came off the overhead, and the driver got out to fix it.
At this time, behind the trolleybus was driving a Volkswagen Passat, whose driver due to the poor weather conditions did not notice the man and knocked him down.
According to witnesses, the blow was such force that the body flew 20 meters. The deceased was 43 years.
Comments
comments