Saakashvili in Lviv read a report on the violation of crossing the border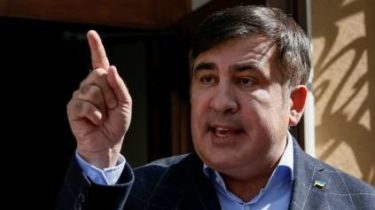 The representative of the State border service read the Chapter "Movement of new forces" to Mikheil Saakashvili's administrative report on illegal crossing of the Ukrainian border near Lviv hotel "Leopolis" where is the politician.
See also:
The guards came to Saakashvili in the hotel
This happened in the presence of MPs, defenders of Saakashvili and journalists.
At the same time politician stressed that the Protocol should have been given within three hours after the probable violation of the border, but now, this procedure is illegal. This was stressed by the lawyers of Saakashvili.
Recall, September 10, Mikheil Saakashvili, who is deprived of Ukrainian citizenship, entered the territory of Ukraine through KP "shehyni" that in Lviv region, although I was going to make it through KP "" that in the Lviv region. To the border he got a bus.
At first he tried to cross the border by train intercity "Przemysl – Kyiv", but he was detained because of "the man who has no grounds for entry into Ukraine".
With the help of the supporters of Mikheil Saakashvili arrived to Ukraine. The border service will appeal to the courtto fix the violation of the border by the policy under article 204 Article (Illegal crossing or attempt of illegal crossing of the state border of Ukraine).
Guards 10 and 11 policemen were injured and at the checkpoint as a result of the breakthrough. The police in Lviv region opened criminal proceedings on the fact of breaking the boundaries of article 332 (illegal transportation of persons through the state border of Ukraine) of the criminal code of Ukraine. also the incident is being investigated under the article "about the resistance to law enforcement officers during the execution of their duties".
Priznaytes to TSN from Viber that atribuite
nivalis news just the messenger!
Comments
comments