Poroshenko: we are capable to curb Russian aggressor with the strongest army on the continent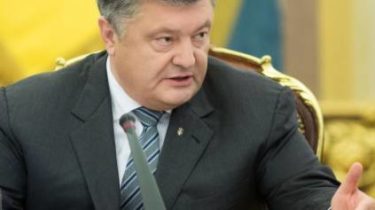 "We are able to keep the Russian aggressor, who has the most powerful army on the continent, that number is five times larger than ours, and the military budget which in some years exceeded our 16 times," said President Petro Poroshenko during the meeting of the NSDC.
This is the website of the President.
He noted that despite the aggression against our country, our military budget 2017 increased % compared to 2013. the President stressed that the national security strategy envisages annual financing of defence-security sector in the amount of not less than five percent of the gross domestic product.
In 2018 it is planned to direct for needs of national security and defense 163 billion. That's 20 billion more than this year.
The Council also considered a number of problematic issues to be addressed in the current and next year, for example, on the appropriate funding and organization of production of ammunition, precision guided munitions and armored vehicles and aircraft armament, as well as import substitution of spare parts and components supplied from Russia.
We also addressed the issue of strengthening air defence systems and aircraft of the Air Forces and of the cost of conducting intensive combat training of parts and divisions of Armed Forces and other military formations.
See also:
Russia begins military exercises near border with Ukraine – RNBO
The President emphasized the importance of enhancing the motivation of those who are on the first and second line of the collision – it is an increase in cash payments depending on the risk and complexity of the task. The head of state also called one of the priorities is strengthening counterintelligence regime and the implementation of the National intelligence program.
We will remind that earlier the President Petro Poroshenko introduced the NSDC decision, which concerns the strengthening of control over entry and exit from Ukraine of foreigners and persons without citizenship, compliance with the rules of stay in the country.
The national security Council instructed the government within one month to ensure the implementation, with the participation of SBU comprehensive measures to strengthen control over the entry and departure from Ukraine of foreigners, including citizens of Russia and persons without citizenship.
Comments
comments