"They are frightened of true patriotism". Chiygoz commented on the sentencing court of the Russian invaders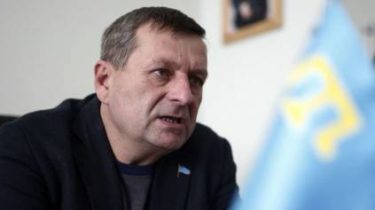 One of the leaders of the Crimean Tatars Akhtem Chiygoz, who was awarded the 8 years of the colonies of strict regime on trumped-up in the case of the Russian Federation, reacted to the decision of the court.
Treatment Chiygoza on the page has published the MP and the head of the Mejlis of the Crimean Tatar people Refat Chubarov.
See also:
"Another conviction of Russia". Poroshenko reacted to the decision on the conclusion Chiygoza
"September 11, listened to the verdict. How much cynicism, lies, and most importantly, fear behind every spoken word and action of judges, the Russian authorities before the strength, the courage, the determination of my people. As they are annoying, scary, and true patriotism, which they do not understand and are not inherent to them. It is convenient to hide behind a pseudo-patriotism, soaked rotten national-chauvinism, and plant them not only to his people," – said Chiygoz.
Treatment of Akhtem chigusa to the participants of the rally, to be held in Kiev on 13 September 2017 at 17.30 at the independence …
Posted by Refat Chubarov 13 Sep 2017
In his opinion, every Ukrainian and Crimean Tatar should understand that their rights to freedom, dignity and love of country is a danger to the government of the Russian Federation.
"The verdict has absorbed the despair and anger of collaborators. But their joy is premature. They will not be able to "make the main value lies and meanness". They can never be an authority of the people," he concluded.
Recall Chiygoza was arrested back in January 2015 and spent 15 months in prison. After that, with numerous violations of the demonstration trial. He was found guilty of organizing "mass disorder"related to clashes that occurred on February 26, 2014 between Pro-Ukrainian and Pro-Russian protesters.
Videobrain will seek the extradition of Akhtem Chiygoza, illegally convicted by a Russian court
TSN. Wounds
12 Sep, 08:49
Facebook

VKontakte

Google+

Twitter

Viber
Comments
comments