"A gift from Poroshenko." Sakvarelidze reported about suspicion in the transportation of Saakashvili across the border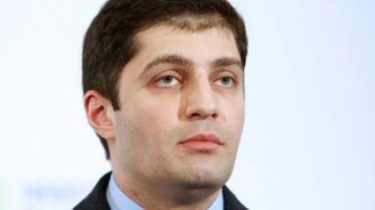 In Lviv, law enforcement officers reported about suspicion to the former Deputy Prosecutor General, member of the political Council of the party "new force Movement" David Sakvarelidze.
The video, which ally of Mikheil Saakashvili read out a suspicion, Sakvarelidze has published on his page in Facebook.
According to the document, it is suspected under three articles of the Criminal code of the group violation of public order, illegal trafficking of persons across the state border of Ukraine and resistance to the representative of law enforcement body.
In turn Sakvarelidze called the commencement of proceedings against him a "gift from Poroshenko."
""This gift from Poroshenko, a gift from Peter I to all the people who are fighting… This is a purely political prosecution of all leaders and all people who participated in democratic action, trying to protect their health and their lives, when the government said that the checkpoint "shehyni" mined. Now I'm getting a suspicion that we illegally crossed the border. It turns out that we, in Ukraine, there are a few boundaries. Because there is the Polish-Ukrainian border was crossed by no one – neither I nor the other person," he said.
14.09.2017 at 16:50 Lviv, Shota Rustaveli street, 2 Sakvarelidze trying to give suspicion.
Published by Igor Zinkevych 14 Sep 2017
Recall, September 10, Mikheil Saakashvili, who is deprived of Ukrainian citizenship, entered the territory of Ukraine through KP "shehyni" that in Lviv region, although I was going to make it through KP "Krakovets" in the same region. To the border he got a bus.
At first he tried to cross the border by train intercity "Przemysl – Kyiv", but he was detained through the "person who has no grounds for entry into Ukraine".
With the help of the supporters of Mikheil Saakashvili arrived to Ukraine. The border service will appeal to the courtto fix the violation of the border by the policy under article 204 Article (Illegal crossing or attempt of illegal crossing of the state border of Ukraine).
Guards 10 and 11 policemen were injured at the checkpoint as a result of the breakthrough. The police in Lviv region opened criminal proceedings on the fact of breaking the boundaries of article 332 (illegal transportation of persons through the state border of Ukraine) of the criminal code of Ukraine. Also the incident is being investigated under the article "About the resistance to law enforcement officers during the execution of their duties".
Comments
comments