In an art gallery in Kiev shot the man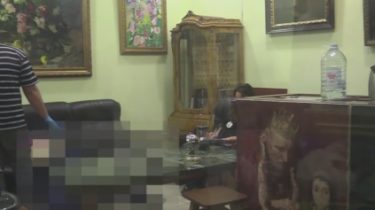 In Kiev, in the Shevchenko district in the room of the gallery found the dead body of a 42-year-old man.
It is reported by the Department of communication of the police of Kiev.
Law enforcement said the woman. She couldn't open the door to the gallery, where her husband and did not respond to calls.
See also:
In Vinnytsia mayor was shot in his office while on duty
"At the scene investigative team found the body of 42-year-old man with a gunshot wound to the chest, lay the gun from which the shot was fired. During the inspection of the premises, the police seized several guns (according to preliminary information, one of them was stolen two years ago from the military unit, other weapons in the bases not included) and more than 300 cartridges of various calibre" – said the head of the Main Department Nacpac in Kiev Andrey Krishchenko.
A preliminary version of the investigators is suicide because of debt or heavy chronic disease.
The investigative Department of Shevchenkovsky police Department initiated criminal proceedings under part 1 St. 115 (Premeditated murder) of the Criminal code of Ukraine with additional qualification – suicide. All versions will be checked in the course of the investigation.
We will remind, earlier in Kiev, near one of the buildings of the National technical University of KPI them. Igor Sikorsky , the young man tried to commit suicideby cutting his throat. The man managed to save.
Comments
comments