The Cabinet of Ministers introduced to the Verkhovna Rada the draft state Budget for 2018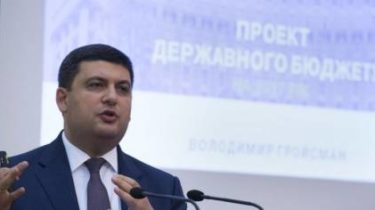 BP sarestoniemi the draft law "On state budget of Ukraine to 2018", has been submitted by the Cabinet of Ministers of Ukraine.
This is stated on the website of the Parliament.
See also:
In the draft Budget for the 2018 inherent rate of 29,3 USD for dollar – danyluk
The project was registered under No. 7000, but the text is currently missing.
However, during a meeting of the government was announced the following figures for the project Budget:
2018 is expected to increase GDP by 3%. Inflation in the country slowed down. At the end of the year it will be 11.2%, and in 2018 already 7%. Next year the budget deficit will amount to 2.4% of GDP.
The consolidated budget's revenues will grow by 15%.
On social assistance want to highlight the 122.7 billion. 2018 rock, the minimum wage will be 3 723 UAH.
Meanwhile, on defense and security will provide 164,9 billion.
On the road next year will direct 44 billion hryvnia.
In turn, the agricultural sector of the country, which now generates a fifth of GDP, will receive 7.3 billion hryvnia support.
We are talking about the increase in teachers ' salaries by 25% next year and the allocation of 1 billion hryvnias for modernization of the elementary school.
Health the budget provides 112,5 billion.
The funding of culture will be 4.1 billion, on diplomacy will spend 4,435 billion.
We will remind, Groisman said that the draft budget on 15 September will be submitted to the Council. During a conversation with the President of the EBRD Groisman also noted that the Ukrainian government has given priority to the reforms in the judicial, pension, medical industries, education, and management of state property. The Prime Minister said that next week the Parliament will consider draft laws on judicial reform and changes in the pension system. Also relevant to the consideration of the draft law on privatization, which was developed together with specialists from the EBRD.
Comments
comments