Poroshenko has promised to raise the salaries of rescuers to 1 thousand UAH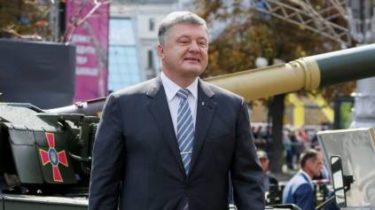 The President of Ukraine Petro Poroshenko announces increase the salaries of rescuers on more than a thousand hryvnia.
He said this during the celebrations on the occasion of rescuer's Day, UNIAN reports.
"It was decided to allocate these limited conditions almost impossible amount – an additional 1 billion UAH", – he said about a recent meeting of the national security Council, which considered the draft budget of the complex defence and security for 2018.
He stressed that the funds will be used, including, for the increase in cash collateral.
"Because the figures that were presented were absolutely unacceptable, that the rescue workers receive a lower wage than other special units than other officers in uniform," said Poroshenko.
See also:
Soldiers in the area ATO increased the wages
"The increased cash security rescuers, only according to preliminary calculations, the rescuer will be increased by more than a thousand hryvnia. This is the second in this year's increase, though not as high as hoped, but it certainly demonstrates that together we are moving in the right direction", – said the head of state.
We will remind, in the ministries have opened up new jobs with salaries up to 50 thousand hryvnia. The competition is open for both beginners and for those who are now working in the Ministry. It is held in several stages: first a test of knowledge of the state language, filling in the Declaration, then the exam on the knowledge of the laws, testing for analytical thinking, hands-on play and interview. Experts advise to prepare for the competition, modeled just what will do in the Ministry, what problems it will solve.
For some jobs it is possible to get even without experience – will be enough of higher education, fluency in the state language. And, of course, a great desire to work for the state.
Comments
comments