Saakashvili said that he had found in a strange hotel room "equipment SBU"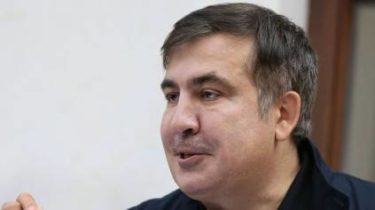 Deprived of Ukrainian citizenship Mikheil Saakashvili said that his men found in the next to his room at the hotel in Chernivtsi "equipment SBU".
The former head of the Odessa regional state administration recorded a video in which he said that his security guard allegedly was not allowed to his number of people with "specific suitcases."
"It would have been nice if my bodyguard stopped the attempt (…) people with suitcases specific, Ukrainian SBU… They tried to come in but he didn't let them", – Saakashvili said.
He added that the alleged after that, these people went in the room, which was located under his room.
"When we began already to follow them, they have gone from the room, but left behind things," he added.
See also:
The motorcade of Saakashvili was stopped by patrol police for breaking the rules
As Saakashvili's people was in a strange room he didn't tell, however, showed the equipment which allegedly left in him.
"There's cable, as I understand, a listening device… Here's how it is written the whole story. I understand that this is a camera to record the rooms, in the bedrooms…", – thought Saakshvili, fingering things from small black bags.
He then accused the President of Ukraine Petro Poroshenko in the alleged attempt listening rooms.
"Peter, you think it's nothing to do for leisure, you want to watch, as Saakashvili goes to the toilet. That you do not have enough of his life. You want to do with my personal life, I don't know the sexual history…", – he added.
Recall, September 10, Mikheil Saakashvili, who is deprived of Ukrainian citizenship, entered the territory of Ukraine through KP "shehyni" that in Lviv region, although I was going to make it through KP "Krakovets" in the same region. To the border he got a bus.
At first he tried to cross the border by train intercity "Przemysl – Kyiv", but he was detained because of a "personality who has no grounds for entry into Ukraine".
With the help of the supporters of Mikheil Saakashvili arrived to Ukraine. The border service will appeal to the courtto fix the violation of the border by the policy on article 204 Article (Illegal crossing or attempt of illegal crossing of the state border of Ukraine).
Guards 10 and 11 policemen were injured at the checkpoint due to breakthrough. The police in Lviv region opened criminal proceedings on the fact of breaking the boundaries of article 332 (illegal transportation of persons through the state border of Ukraine) of the criminal code of Ukraine. Also the incident is being investigated under the article "about the resistance to law enforcement officers during the execution of their duties".
On 13 September, the ex-President of Georgia promised to start their tour of Ukraine – the first city to be visited were selected Chernivtsi.
Comments
comments