11-year-old boy was mowing the lawn near the White house under the supervision of the trump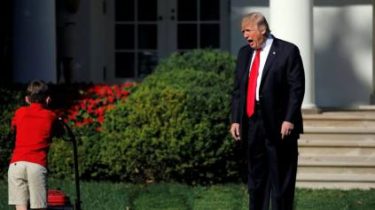 The President of the United States Donald trump gave to mow the lawn near the White house 11-year-old Frank Hacco. Thus, he realized the dream guy.
This writes the Voice of America.
In August, Frank wrote a letter to the White house, in which he told that he earns mowing and inspires his business career trump. The guy also said that it would be an honor to mow the grass near the presidential administration.
So Frank was invited to the white house. When he mowed the grass, he was approached by Donald trump and praised for their work. But the guy did not stop what the US President had to follow him. Frank stopped only when he approached his father and showed signal to stop.
11-year-old Frank Giaccio gets to mow lawn at the White House after sending a letter earlier this year making the request. pic.twitter.com/ysTyuM6w4a
— CSPAN (@cspan) September 15, 2017
After trump had a little chat with the guy. Frank told the President he wants to become a military commando. Then trump told reporters: "This is Frank. He will be very famous. Will one day become a Navy seal. Will do great things for our country. Maybe he will be President"," said trump.
Comments
comments