Ambassador of Ukraine to the USA opened the curtain on the theme of the meeting Poroshenko and trump in new York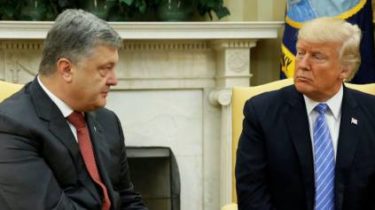 Next week during the meeting of the presidents of Ukraine and the USA Petro Poroshenko and Donald trump will discuss the results of preliminary negotiations agreements and plans for cooperation.
This was written by the Ambassador of Ukraine to the United States Valeriy Chaly on his page in Facebook.
"Contacts between Ukraine and the United States are developing successfully. Important summit will take place September 21 in new York. The President of Ukraine Petro Poroshenko and the President of the United States Donald Trump is important to discuss the results of the agreements reached during the recent meeting in June in Washington," he said.
See also:
"Russia is not reciprocal". Peskov confirmed the transfer of the Trump plan of reconciliation
According to Chaly, the presidents plan to outline specific plans for cooperation on key issues in the areas of global and regional security, defense, economic and energy cooperation.
"I want to thank the American side for effective collaboration in the preparation of the meeting", – he added.
We will remind, in June in Washington, the White house hosted a meeting of Ukrainian President Petro Poroshenko and his us counterpart Donald trump. Politicians met in the oval office. After that, Poroshenko left to journalists. According to him, they discussed the situation in the Donbas. The Ukrainian leader said that the US President advocated the expansion of cooperation between Ukraine and the EU.
Comments
comments