Lutsenko assured that Saakashvili will not be arrested for illegally crossing the border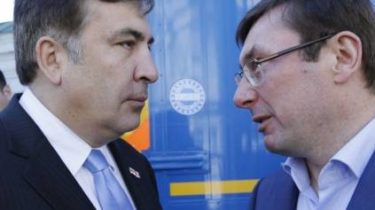 Former Georgian President and ex-Chairman of the Odessa regional state administration , Mikheil Saakashvili will not be to arrest and to extradite due to the fact that he is in violation of the order has crossed the state border, leaving Poland to Ukraine.
This was assured by the Prosecutor General Yury Lutsenko, transfers "Ukrainian truth".
"I, as the attorney-General declare – Saakashvili will not be arrested in this case, Saakashvili cannot be extradited from this country, still has a residence permit or other document which he filed," – said Lutsenko.
The attorney General noted that those who "Saakashvili were transported across the border, will have problems with the criminal case, but will not be arrested. Those who beat Ukrainian border guards, will have to deal with the criminal case and will be arrested. And have to sit for seven years. To all politicians understand – and you need to hold a meeting, but you can not beat the soldiers and officers that protect the border. Therefore, in this case – crime, in all other respects – a fine and court", – said Lutsenko.
Earlier, the attorney General said that no unjustified arrests in the "case of Saakashvili," after violations by associates of ex-President of Georgia's order of crossing the border will not.
At the same time Lutsenko has accused the people's Deputy from "Blok Petro Poroshenko" Moustapha Nayem in the promotion of Saakashvili during the border crossing. The dispute between Lutsenko and Hire occurred during the YES forum in Kyiv. About it reports "Gromadske". Nye noted that the policy of the President of Petro Poroshenko regarding Saakashvili similar to the policy of ex-President Viktor Yanukovych on Yuriy Lutsenko. Lutsenko said that Saakashvili should write a letter to the court and appeal against the decision to cancel citizenship.
Recall, September 10, deprived of Ukrainian citizenship Saakashvili's extradition, which requires Georgia, broke into Ukraine from the territory of Poland. This helped the hundreds of activists who broke through a cordon of security forces at the checkpoint "shehyni" and he holds Saakashvili to Ukraine. Accordingly, the passport control policies failed. Now the case is continuing investigation.
Comments
comments