More than 500 Ukrainian servicemen had committed suicide during the war – pilgrim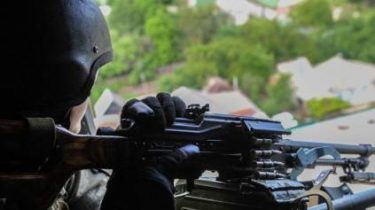 In the beginning of the war in the Donbass committed suicide due to PTSD more than 500 Ukrainian military. This was announced by the people's Deputy and presidential adviser for humanitarian Affairs Olga bohomolec.
"The problem of suicide among veterans of the ATO is one of the most painful tragedies of our society. During the war, over 500 of our soldiers have killed himself due to PTSD. This is a problem of all countries who fought, but in Ukraine, due to the lack of systematic work with the veterans this question is particularly acute," – said she.
See also:
In the Lviv region in a military guard was shot
She gave details of the results of research experts of national Institute of social and forensic psychiatry health of Ukraine.
"Almost 85% of suicides are committed by members of the ATO under the age of 40 years, most of them are persons up to 30 years (45.5% of all). One of the most significant among the factors associated with suicide, was "a condition of alcoholic or narcotic intoxication during the Commission of suicide". He was detected in 51% of the victims", – is spoken in the message of the pilgrim.
Psychological profile of a suicide — a veteran of the war, the Problem of suicide among veterans of the ATO is one of the most painful tragedies…
Published by Olga Bogomolets 18 Sep 2017
Among the methods of committing suicide dominated by injuries with firearms (61%) and hanging (31%).
"This is a scary statistic, which requires the immediate intervention of the state and society in the situation. In my deep opinion, psychological preparation of soldiers to begin even before the fighting — at the stage of recruitment or contract signing. People need to understand what they are and what the consequences for their psyche it will have," – said the MP.
Petitioner believes that the return of ATO soldiers to civilian life needs to be a system of psychological assistance, which includes not only healthcare workers but also family members and society.
In her opinion, Ukraine should create a Ministry of veterans Affairs network and veterans ' centers in all regions of Ukraine, where the soldiers could undergo rehabilitation.
"All that money in the relevant ministries and agencies are. You only have to find the desire. And I will do everything to make this desire they had. We can't afford to have the best, most brave, Patriotic citizens of our country just left this life. They tell us we need", she concluded.
We will remind, earlier in Ukraine was created the registry of suicides among soldiers and demobilized from the area ATO. Data is transferred to the Institute of forensic psychiatry in the database for more than 100 questionnaires, of portraits of veterans who have committed suicide.
Comments
comments