He tripped and grabbed the operator. Geletey said that his subordinate did not attack journalists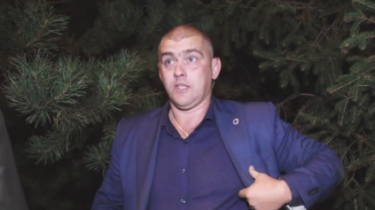 The Office of state security very peculiar explained the situation with the journalists of the program "Schemes", which declared the attack on the employee near the restaurant, where the President of Ukraine Petro Poroshenko.
Earlier the crew reported that the journalist Mykhailo Tkach and cameraman Boris Trotsenko force was used when they shot the footage near the restaurant complex, where he was celebrating his wedding the son of Prosecutor General Yury Lutsenko.
See also:
The father straightens his tie, and the son makes the bride from the marriage: there are photos from the wedding Lutsenko Jr.
When journalists tried to take pictures from the restaurant goes Poroshenko, two representatives of the state guard pushed them under the pretext that "there are bad stand" and then having a fight, knocking the operator off his feet. Then they tried to blame the crew in the attack.
Video with the incident published online, and Weaver and Trotsenko was invited to a meeting with the boss HUGO Valery Geletey.
They explained that the attack was not, and Posnick just tripped and grabbed the operator.
"According to the results of the internal audit Valery geletey reported that the employee HUGO caught the slope and falling clutched at the operator. The actions of the in-service inspection found no violations", – stated in the message of a Weaver in the social network Facebook.
I have a operator Schemes: corruption in detail – RFERL Boris Trotsenko just had a meeting with the head of UGO and Valeria…
Mykhailo Tkach published 19 Sep 2017
We will remind, incident has occurred on the night of September 16 in Koncha-Zaspa near one of the restaurants where President Petro Poroshenko, Prime Minister Vladimir Groisman, Vice-speaker Irina Gerashchenko and a number of politicians. The journalist said that he and cameraman were attacked by employees of the state security Department attempting to stop the shooting.
The next day the chief of the state guard of Ukraine Valeriy geletey apologized to the journalists for the attack of the state security guards on the film crew. In HUGO began an internal investigation due to the actions of employees.
Also, the journalists wrote a complaint to the police about hindering legitimate journalistic activities.
Comments
comments