In Central Kiev, thousands of doctors came to the rally against medical reform, the police blocked the street Grushevskogo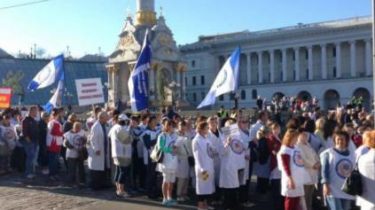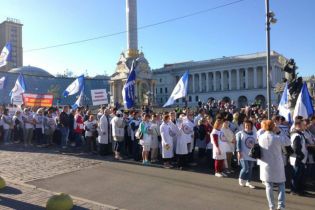 In the center of Kiev on the street Grushevskogo thousands of doctors gathered for a rally, oppose medical reform.
According to TSN reporter Oksana Mulyar, pre-gathered at Khreshchatyk at least two thousand people, but all the time people come, they come from different cities, holding placards.
As noted, the rally has prepared a trade Union of doctors.
"Our first requirement – we require to appoint a health Minister, because we believe that in terms of the reform should be the head of the Ministry, which will offer reform, will implement it and will be responsible for what he did. Our second requirement is that the debt providers. A week ago, it was more than 100 million hryvnia," – said the Chairman of the Union of Viktoriya Koval.
In turn acting Minister of health Suprun yesterday responded to these demands because they were announced at a press conference. In her opinion, the Union and hospital authorities rounded up people in this rally.
Now people are forming a column, they will be the government quarter. In some areas this route is closed to traffic, in particular, Hrushevskoho street, European square. Through this formed a lot of traffic, drivers are outraged.
Besides, the government quarter with both sides already mounted mobile stationary frame metal detectors. On the streets on duty a huge number of national guard soldiers, and also cynologists with dogs.
Recall that among the new products that should bring reform in the field of medicine, will be the growth of wages and new equipment for ambulance crews.
Comments
comments