Groisman has promised to reform "Naftogaz" following statements by the independent members of the Supervisory Board resignation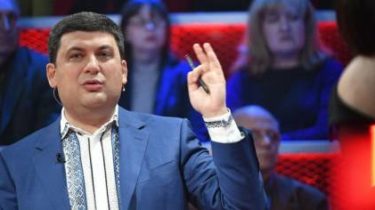 Prime Minister Volodymyr Groysman assured that the reform of "Naftogaz" will continue.
He stated this during the government meeting, UKRINFORM reported.
"I guarantee that reforms will be continued and accelerated in order to "Naftogaz" was a modern, high-quality company, which has established the good corporate governance principles," said the official.
According to Groisman, the reform of "Naftogaz" will cease to be a monopoly on the oil market of Ukraine.
He also promised public release of the Supervisory Board of the NAC in conjunction with international partners. The head of government stressed that it is necessary to "attract the highest quality personnel to continue reforms."
See also:
"Naftogaz" has filed another lawsuit in the Hague against Russia for 5 billion dollars
We will remind, on September 19 last of the independent members of the Supervisory Board of "Naftogaz" Paul Warwick and Marcus Richards announced his intention to resign. In their letter they point out that in April, they have already expressed of the Cabinet of Ministers its clear position regarding the failure of the government Plan for the reform of corporate management of "Naftogaz".
It was noted that representatives of the highest political leadership of Ukraine assured the members of the Supervisory Board that the reform will take place. However, during the last five months there have been no significant changes.
"None of the actions, which are under the control of the government, were not fulfilled. On the contrary, the level of political interference in the work of "Naftogaz" continues to grow and has become, unfortunately, the obvious norm," said the company.
Comments
comments