The GPU will return to the state budget 200 million dollars stolen by Yanukovych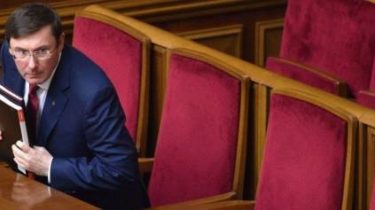 The Prosecutor General's office is preparing to conduct specefication $ 200 million of the funds looted deprived the title of President of Ukraine Viktor Yanukovych.
This was stated by Prosecutor General Yury Lutsenko during meeting of the parliamentary Committee of the Association Ukraine-EU in the river, reports "UKRINFORM".
"The day we officially announce special confiscation another 200 million, and a month – another. We are constantly working to return the stolen money from the people. It is the largest specefically in the history of Europe, and possibly the world," he said, adding that experts have confirmed $ 40 billion of losses caused by the Ukraine President fugitive.
According to Lutsenko, the Prosecutor's office transferred to the state Treasury $ 1.5 billion looted by Yanukovych.
The attorney General also noted that in addition to Yanukovych's legal and financial responsibility must be held, former Prime Minister Mykola Azarov, together with his son and Ministers.
"All means available to us will be returned to the Ukrainian budget. This, in my opinion, the main result of the activities of the Prosecutor – the responsibility of the former and the prosecution of current government officials and leaders at various levels of the Ukrainian state", – said Lutsenko, adding that currently, the investigation is completed and enters the stage of trial and a month before the end of the year the Prosecutor's office will give to the courts all defendants in "Yanukovych's team", who are accused of financial crimes.
We will remind, on April 26 the state "Oschadbank" started a process of special confiscation of 1.5 billion US dollars (40 billion), which are accounts of the "family" of Yanukovych. The financial institution performs the decision of the court, the money in the state budget of Ukraine.
The head of state Petro Poroshenko stressed that the funds were returned to the state Treasury.
In the cash equivalent of the withdrawn Viktor Yanukovych 1.5 billion dollars weighed 15 tons. This was announced by Prosecutor General of Ukraine Yuriy Lutsenko. He stated that the transfer of funds is completed.
Comments
comments