Poroshenko believes that Russia is using the occupied Crimea as an Outpost of the military operation in Syria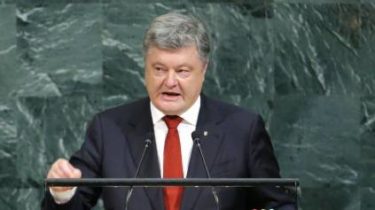 The Russian annexation of Ukrainian Crimea is a challenge to international security, since Russia is using the Peninsula to focus there military force, which is then sent to Syria to support the regime of Bashar al-Assad.
This was stated during a speech from the rostrum of the UN General Assembly the President of Ukraine Petro Poroshenko.
See also:
The mandate of the peacekeepers to cover the entire occupied territory of Ukraine – UN Poroshenko
"What attracts our special attention in the context of this bloody conflict, it is Russia's use of the occupied Crimea as a military Outpost for the design of military force in Syria," – said the head of state.
According to him, significant number of Russian military equipment is being transported to Syria ships based in the ports of the Crimea.
We will remind that earlier the President of Ukraine Petro Poroshenko appealed to the member countries of the UN initiative to create a group of Ukrainian friends in Crimea.
"The time has come to create an international group of friends of Ukrainian Crimea to coordinate our joint steps and actions. We look forward to a coordinated and dedicated support of our international partners," – said the President of Ukraine.
Comments
comments