Dancing the hopak, can not be quiet. As for the Network comment on release Shtepa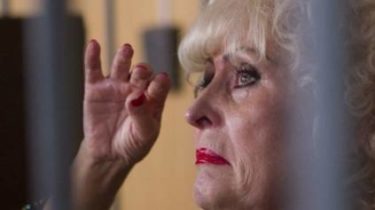 In Kharkiv court released from jail controversial ex-mayor of Slovyansk Nelly Shtepa – the news numerous reviews met in social networks.
Now the court hearing the ex-mayor, charged with separatism, will be under house arrest.
See also:
The main intrigue in the offensive Shtepa: the court will explain why she was released from custody
From the hall the controversial former official came out with a flag of Ukraine and sang the national anthem of Ukraine, although during the occupation of Slavyansk joyfully met the terrorists, talked about the federalization and thanked President Vladimir Putin for the occupation of the Crimea.
The sudden decision to release Shtepa angered users. They started sarcastically calling her a patriot and was laughing at how offensive the former official left the courtroom.
After release from prison. the seventh time singing the anthem of Ukraine. Sometimes dancing hopak. Can not be quiet. Glory To Ukraine!
Published by Owl Donbass Ukraine 20 September 2017
When Nelya Shtepa sings the Anthem of Ukraine in the vast steppes quietly going crazy squirrels.
Published Zoya Kazanzhy 20 September 2017
Nelia #Shtepa sang the anthem of Ukraine at the exit from prison, only words I didn't know…
Posted Politician – this is my country 20 September 2017
Shtepa Shtepa strife. Thanks for the pictures, Sergey Naumovich !
Published Aleksei Mochanov 20 September 2017
Shtepa may address the session of the UN General Assembly as brightly as Poroshenko. Even brighter – because it has already welcomed the arrival of "peacekeepers" to Donbass. But Peter does it for the first time.
Published by Yury Kasyanov on 20 September 2017.
Shtepa made room for the patriot. And this is no joke.
Published Vova Holobutsky 20 September 2017
Shtepa! Staaaaaay!
Published Roman Davydenko 20 September 2017
Scandalous Nelyu Shtepa, the former mayor of Slavyansk, Kharkiv today the court released under house arrest. From court she went out with Ukr…
Published by Kristina Berdynskykh 20 September 2017
The former mayor of Slovyansk Nelly Shtepa was kept in detention since 11 July 2014. Stepu accused of holding an illegal poll on the issue of federalization, and that it has not taken adequate action to release the seized building of the city police Department, where he kept the 479 units of service weapons, and in a media interview urged not to release him.
The indictment also stated that Shtepa has expressed support for the separatists, prevented the capture of the city Council and allowed the militants "DNR" to take the city, leading to Sloviansk from April 12 to July 5. In addition, according to prosecutors, the … contributed to the organization and strengthening of the illegal checkpoints. Separately noted that during the occupation and fighting in Slavyansk killed 117 people, 198 were injured. Damaged 1574 house, and also objects of housing and communal infrastructure of the city.
Videoediting ex-mayor of Slavyansk has been released from jail under house arrest
TSN. 19:30
20 Sep, 20:16
Facebook

2

VKontakte

Google+

1

Twitter

Viber
Comments
comments