The number of taps, petitions and call the police: lawyer Yanukovych does not start proceedings on the merits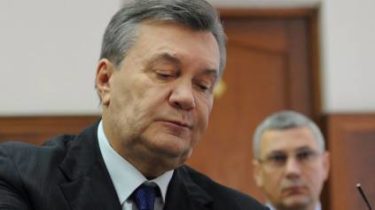 New state's attorney Yanukovych Maxim Gerasim at this meeting, in the case of treason the ex-President said more than ten motions until the court rejects, the correspondent of TSN.
In the beginning of the meeting, Gerasko asked to postpone the trial for three months, because it considers the time needed to review the materials. TSN got this request: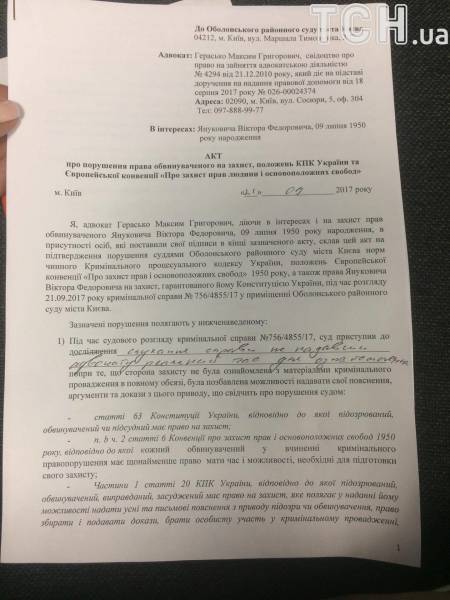 https://www.facebook.com/nelly.kovalska?fref=ts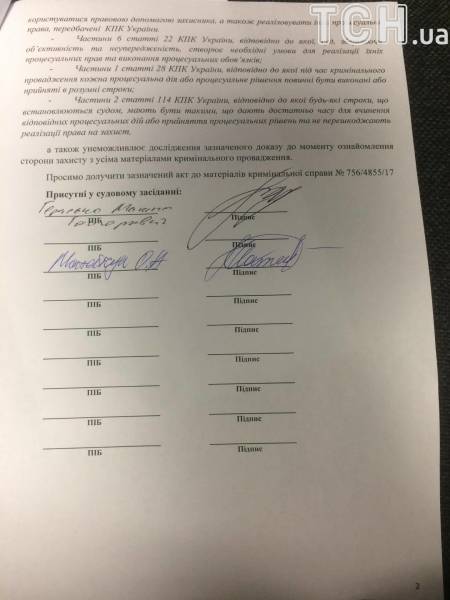 https://www.facebook.com/nelly.kovalska?fref=ts
After counsel stated for the disqualification of court clerk, two judges and the composition of the prosecutors. Also asked for a break for half an hour to call police, which were to fix, as stated, Gerasko, "the violation of his right to protection." Police the call came. Also, the lawyer requested a break for dinner, they say, the morning did not eat anything. But that request, the court dismissed, citing in particular the fact that many of those applications already rejected earlier.
Thus within a few hours of meeting the Obolon court of Kyiv was not able to proceed to the consideration of the merits. Will be delayed if the trial after the end of the day judges are now being investigated. As of 17:45, the court considered the motion to dismiss prosecutors.
We will remind, the previous lawyer Yanukovych said withdrawal in the case of treason. In particular, the state attorney Yanukovych Vitaly Machacek refused to participate in the trial.
In November 2016, the Prosecutor General Yuri Lutsenko announced the suspicion of treason Viktor Yanukovych in the premises of Sviatoshynsky court, being in direct contact with the Rostov court, where the President is a fugitive. Yanukovych is accused of committing treason, aiding the authorities of the Russian Federation, intentional acts committed for the purpose of modifying the boundaries of the territory and the state border of Ukraine.
Obolon court of Kyiv allowed the special court proceedings in the case of Viktor Yanukovych. This permission provided because of the absence of Yanukovych, who would have to go with the court on the Skype connection. In absentia proceedings, the prosecutors insisted.
July 6, the lawyers of Viktor Yanukovych, Vitaliy Serdyuk and Igor Fedorenko announced their withdrawal from the trial in the Obolon district court of Kyiv. The defenders of the fugitive stressed that July 6 will not participate in the hearing because Yanukovych wrote a statement that waives their services.
The TSN reporter Nellie Kowalski
Comments
comments