The OSCE has told about almost two thousand violations of the ceasefire regime in the Donbas over the past week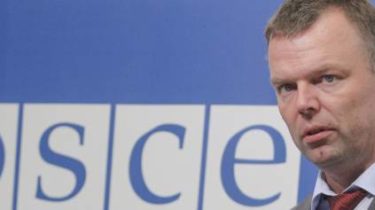 First Deputy Chairman of the Special monitoring mission of the Organization for security and cooperation in Europe, Alexander hug said that last week in the Donbas recorded 1 thousand 882 violations of the cease-fire.
He said this at a briefing in Kiev, UNIAN news Agency reports.
See also:
Lavrov at the UN security Council urged peacekeepers in the Donbass must protect the OSCE mission
"Last week, according to the observations of the Special monitoring mission of OSCE in Ukraine, this situation was unstable. Despite the fact that the number of violations of the ceasefire, the SMM recorded, decreased by approximately 10% when compared with last week, cases of violence were observed on a regular basis in most areas along the line of contact," said hug.
In particular, he said that the epicenter of the violence was the triangle Avdeevka-Yasinovataya-Donetsk airport. In this district there were 40% of the total number of violations of the cease-fire last week. Also, the representative of the mission said that in the areas to the East and North-East of Mariupol occurred in approximately 30% of all violations mode "silence".
Earlier it was reported that the drone of the OSCE has recorded 48 tanks of fighters at a distance of 57 kilometers from the occupied Donetsk.
Comments
comments