Snowstorm in MS*ku: MPs outraged journalists, who rented the dining room of BP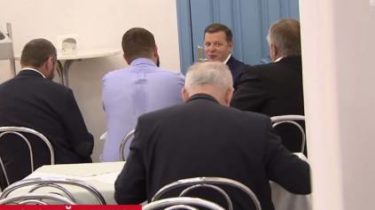 The deputies dissatisfied with a meal together with journalistswho work in Parliament, so I want to make the parliamentary dining room open only for members. Individual MPs are actively discussing in the corridors and social networks, says the story TSN.19:30.
At the entrance to the dining room for the sign ban photography and video shooting. It concerns mainly journalists, who are always interested in what MPs eat and how much it costs. To get here with the camera – it is impossible. But despite this, with the food and the deputies for a meal sometimes appear in the network and always keenly debated, and that is what confuses the people's representatives. So much so that the topic raised at the meeting of the procedural Committee of the Verkhovna Rada.
Videoarte elected officials unhappy with joint lunch with reporters in the canteen of the Parliament
TSN. 19:30
Yesterday, 20:29
Facebook

17

VKontakte

3

Google+

Twitter

2

Viber
There have been accusations that, say, the journalists themselves most of the time in the Parliament carried out in the dining room, and the deputies then spoil the image with stories of dinners for 14 hryvnia, although in reality food prices have doubled and can reach up to several hundred hryvnia. Angered by the MP from the Radical party Oleg Kuprienko even offered his own solution to the problem. "And buy a pack of Blizzard – and every journalist in MS*ku" – he said to the laughter of colleagues.
See also:
In Kiev, a third of establishments have suspended their work after inspection
This conversation hit the net and became the subject of scandal, so now the radical from one of his words refuses. "I suggested those journalists who climb into the dish to the MP, make a snowstorm and a salad each. I said lettuce," he says. And he adds: "I understand you have not a snowstorm, and more fish to eat, it helps to ensure that the brain develops".
Comments
comments