Trudeau responded to a question about providing military assistance to Ukraine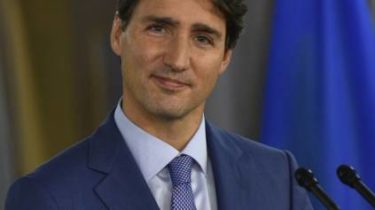 The Prime Minister of Canada Justin Trudeau commented on the issue of providing military assistance to Ukraine.
During a joint with Ukrainian President press conference, Trudeau said that "there is a list and mechanisms for the realization of common objectives".
"We will stay forever with Ukraine on the fight against the illegal aggression of Russia against Ukraine, and efforts by Russia to destabilize Ukraine. We struggle with this," said canadian Prime Minister.
Trudeau also reminded that Canada is helping the instructors that train the Ukrainian military and pass on to them your experience.
See also:
"Warm welcome and fruitful talks" that Poroshenko met with Trudeau
Petro Poroshenko has noted that Canada can play an even more important role in ensuring peace and stability in Ukraine and Europe thanks to the presidency of the G7.
"We see that the G7 platform also contributes to the efforts of the international group of friends on the de-occupation of Crimea. I believe that Canada is well suited for this role because Crimea – is primarily concerned with the rights and freedoms of the person", – said the Ukrainian President.
According to Poroshenko, diplomatic efforts must be backed up by a solid defense and economic stability of Ukraine.
Recall President of Ukraine Petro Poroshenko arrived on a working visit to Canada. Poroshenko is scheduled to meet with the Prime Minister of Canada Justin Trudeau, head of the foreign Ministry of the Christ Freeland, canadian parliamentarians and businessmen. The President also will meet with representatives of Ukrainian organizations of Canada. In addition, Poroshenko will attend the opening ceremony of the "Games of the unconquered", where the first will be national team of Ukraine.
Comments
comments