The Ukrainian interior Ministry confirmed the attack on "Minister of the DNI" and called it a possible reason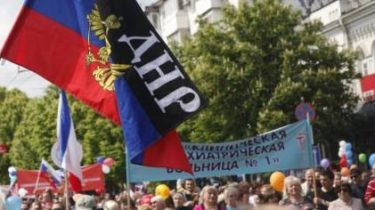 On Saturday, September 23, the Ministry of internal Affairs of Ukraine confirmed the fact of attempt at the so-called "Minister of income and charges" of the so-called "DNR" Alexander Timofeev.
This was announced by adviser to the interior Minister Zorian Shkiriak in Facebook.
According to him, the explosion injured 8 people and all of them are in serious condition.
See also:
Russia plans to conduct in the "DNR" drastic personnel changes – Tymchuk
In turn, Timofeev is in intensive care in critical condition.
He noted that Timofeev held unofficial talks with the curators of the Kremlin, about the aspirations to occupy the "throne" the leader of terrorists "DNR" Zakharchenko.
Likely the incident was an attempt to eliminate a potential competitor from the top of this criminal organization.
Attention! We affirm the fact of attempted so-called "Minister of income and fees" Russian terrorist gang "DNR" Timof…
Published by the Zoryan Shkiryak 23 September 2017
"That is, by the Zakharchenko, who was ordered to kill Timofeeva," — said Shkiryak.
Shkiryak also suggested that it is possible that it could be launched by the Russian intelligence services of another "crazy Elevator", in the framework of special operations GRU-FSB to clean up the leaders of terrorist groups "LDNR" as direct witnesses of the Russian Federation in Ukraine.
Earlier it was reported that on Saturday, 23 September in Donetsk was heard two explosions. The explosion occurred in the Central part of the city in the area of prospect Mira. It was two and heard them around 8:30 in the morning. Later in the "security agencies" so-called "DNR" said that in the occupied Donetsk was an attempt on the Minister of revenue and duties of DNR" Alexander Timofeev. "There were two explosions, an attempt on the Minister of revenues and duties DND" Timofeeva. He's in critical condition", – is spoken in the message.
Comments
comments