Poroshenko's visit to Canada: "Glory to Ukraine!" from Trudeau and flawless Ukrainian foreign Minister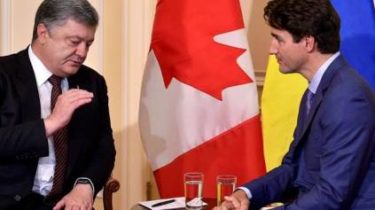 Now the President of Ukraine Petro Poroshenko is in Canada, where he met with the top leadership of the country. During a speech before the Ukrainian delegation to the Prime Minister of Canada Justin Trudeau spoke in the Ukrainian language, saying "Glory to Ukraine!".
Is not a Protocol handshake. Not just another negotiation. What is "Glory to Ukraine !" performed by Prime Minister Trudeau. In these humane gestures of good relations between the two major States of Ukraine and Canada.
Posted by Svyatoslav Tsegolko 23 September 2017
But the Minister of foreign Affairs of Canada Chrystia Freeland at all fluent in Ukrainian. Her mother was born in Ukraine, so the language in the family know and communicate it.
"The unique thing is, when the points for communication are written in English and we will communicate in Ukrainian," said Poroshenko during a meeting with Freeland.
"We have quite a lot of high-ranking officials in our Ministry who are Ukrainians. Iris Is Kaladze. Her husband is a priest, pretty famous in Canada. I know him well. And we were with her in Oslo in the Oslo forum. We spoke to her in Ukrainian. Someone else came up to us and said, "Well, how nice that Canadians communicate with each other in French." And I said, "No, in Ukrainian". And they looked at us," said Freeland, smiling, and raised his hands up.
A unique case when negotiations with the Minister of foreign Affairs of Canada can be conducted in their native Ukrainian language. Glad to be able to thank Chrystia Freeland, for his personal support of Ukraine. During the meeting discussed in detail the development of the situation in Donbas and the status of implementation of the Minsk agreements. Together with Christine Freeland coordinated approach to the implementation of the initiative to deploy the UN peacekeeping operation throughout the occupied territory of individual regions of Donetsk and Lugansk regions. We hope that Canada will take a principled stand on the question of sanctions pressure on Moscow, especially in the context of the future chairmanship of the group of seven.
Published by Petro Poroshenko on September 23, 2017
Comments
comments