In the capital are still searching for the driver of the BMW, who after a fatal accident fled the scene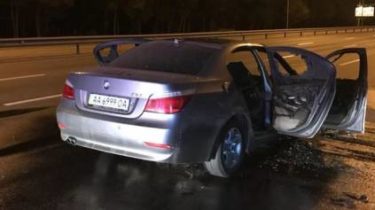 In Cherkasy, hundreds of villagers held a victim the night of the accident on the outskirts of Kiev. Looking for the culprit still. But as it turned out, the owner of the BMW, who said about car theft, had previously been caught in the same accident and fled the scene. Then everything settled influential relatives.
About two hundred villagers Yaroshivka, in Cherkasy came to the cemetery to say goodbye to his neighbor Paul Kalnibolotsky, who died in a horrific accident on the Metropolitan highway.
Still can not believe what happened and his wife Ludmila, who was driving that night close by, in the passenger seat.
It all happened Sunday night, on the outskirts of Kiev when the couple returned home to Cherkasy from children. On the road in their Chevy at great speed hits a passing BMW. From blow the car a few times unwraps. 55-year-old driver out of the cabin and die on the spot. His wife was hospitalized. BMW after driving a few hundred meters, stop. The intruder runs out of the fire of the car and rushes away.
The next morning the son of the owner of the BMW says the car theft. 40-year-old native of Azerbaijan Kafar] says himself in the time of the accident was at home. The police are checking it out, but I say, ] have already got into an accident. According to TSN, he repeatedly violated the rules of the road on three different BMW, but with the same numbers. And at the end of December 2013, and General machine Bakieva in the same area also has rammed "Chevrolet", who was preparing to reverse. Then driving it was the owner. Before he escaped he managed to take a picture.
TSN found the driver, who then got hurt. Alexei says, the lawyers for the driver of the BMW has filed a withdrawal, and prosecutors and judges point still postavleno.
Then after the collision, immediately rushed to the relatives of the driver of the BMW. The wealthy family owns Bakievich Metropolitan stores, car washes and dozens of rooms that you rent it. And Yuri], and generally authoritative, as he calls himself, is a businessman, nicknamed "Babai", which for several decades was kept at Bay Central station of the capital. In spite of this, any compensation to the victims in the accident were not offered. Now the police version is that on Sunday it Kafar] was driving not exclude it.
Video surveillance the outskirts of Kiev there was a fatal accident involving a luxury BMW
TSN. 19:30
25 Sep, 19:47
Facebook

VKontakte

Google+

Twitter

Viber
However, where now he Kafar] is unknown. Relatives of the deceased in this accident, fear that the perpetrator will come out unscathed, and promise to go to the last.
Video surveillance Cherkasy parted with the victim the night of the accident on the Metropolitan highway
TSN. 19:30
Yesterday, 21:17
Facebook

VKontakte

Google+

Twitter

Viber
Comments
comments