QDRO-terraced house: an alternative to a country house and apartments from CL Development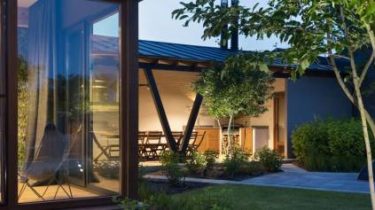 Advertising
Construction company CL Development has combined the advantages of a country home and a penthouse in a new project QDRO-terraced house.
Closer to nature
Homeownership QDRO-terraced house located in the cottage "Konyk" in the Goloseevsky district of Kiev. To the centre from here 15 – minute drive away. The town is located in an ecologically clean place, near the National nature reserve "Zhukov island." Good location – only one of the advantages of QDRO-terraced house.
On a house adjoining site Studio "V pole design" made the original landscape planting. The designers chose plants that look beautiful any time of year. In the yard there is a small kitchen garden and tree.
Terraces can boast not only at home but also penthouses. The advantage of QDRO-terraced house – functional terrace with BBQ-area, which opens to the garden.
Do not overpay for heating
Is it worth it to save resources if you buy a big house, and ready to service costs? Construction company CL Development proposes to consider energy efficiency as a tribute to nature. The developer selects materials and technologies that will allow rational use of resources.
The houses are equipped with geothermal heat pumps and floor heating system. Heat pump heats in the winter without a radiator, cools in summer without air conditioning, and all year heats water without boilers. The pump runs on electricity, but in comparison with electric heating saves 75% of electricity, it is twice as cheaper gas boiler, and in 5-6 times is solid.
Energy saving is supported by new construction technologies. QDRO-terraced house built by prefab technology, produced at the plant warm panels with the built-in Windows with a thick profile. This 35-inch wooden wall retains heat better than a half-meter stone with 20 inches of insulation.

The little things that make life easier
The functionality of the credo for this project. All functional components are not listed, but some are noteworthy, especially when compared with penthouses or country houses. For example, a useful addition QDRO-terraced house – Central vacuum, which facilitates quick cleaning. In Ukraine it is not too popular: the establishment of a vacuum cleaner should be put in the construction phase, and not all developers are going to take this step.
Part of houses is sold with a ready repair. 90% of all furniture is custom built, the houses have a fireplace, a "green wall", two walk-in closets.
In the yard there is two covered Parking spaces. Owners of electric cars will be able to install charging.
The cottage Roof is completely closed and guarded around the clock. The child can play not only near the house – he will be in complete safety if you decide to take a walk on campus.
Help. Construction company "Golden Gate" in 2017 changed the title. CL Development – it is brand new, reinterpretedHNe values and new projects. "First signs" became functional household QDRO-terraced house (Quad) is built on innovative prefab technologies in combination with wood-frame construction.
Comments
comments