The Deposit guarantee Fund has reduced to 1.6 times the starting price of an unfinished shopping Mall "Republic"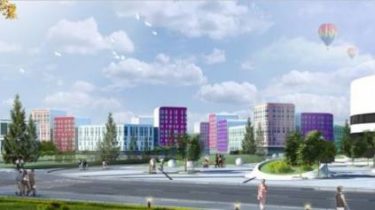 The Deposit guarantee Fund of individuals ' deposits re-auctioned unfinished and the biggest in Ukraine shopping and entertainment center Respublika, as the right of claim on loans of the failed Bank "Nadra" billionaire Dmytro Firtash. New price – 1 billion 571 million 991 thousand UAH, which is 1.6 times less than the previous one in June.
The Mall is located in Kyiv at vul. Great ring, 1, 1A, 1B, at the intersection of major traffic arteries in the capital.
The auction will take place on October 5 in the "ProZorro.Sale." It is reported by the DGF.
"One lot for auction law requirements on two loans that are on the balance of PJSC CB "Nadra". Borrowers shall conduct their business activities in the sectors "construction" and "renting and operation of own or leased real estate". At the beginning of August this year, total outstanding loans amounted to 2.59 billion. While in software contracts property rights to the unfinished construction object, namely, a multifunctional shopping and entertainment complex with Parking. Planned placement of 450 stores, entertainment areas with an area of 22 thousand square meters and Parking for 4000 cars, makes this project the largest Mall in the capital", – stated in the message.
Also, the mortgage Bank is a mortgage of three land plots with a total area of 15.72 acres of property rights for pre-lease retail space in the Mall.
We will remind, Economic court of Kiev satisfied the claim of the National Bank to the Cypriot company "Berlinetta limited" for the recovery of the share of corporate rights of the company "Megapolisstroy" that took the credit in Bank "Nadra" under a pledge of corporate rights to the unfinished project of shopping centre "Republic". Subsequently, the Bank "Nadra" gave these rights as collateral for a loan refinancing of the NBU. This writes UNIAN.
NBU on 4 June 2014 decided to revoke the banking license and liquidation of the Bank "Nadra" at the suggestion of the DGF. February 6, 2014, the Bank has the interim administration on the basis of the decision of the regulator on recognizing a Bank insolvent.
The Bank "Nadra" working for the market of Ukraine since 1993 and was among the largest in terms of assets. The Bank's principal owner was the structure of Group DF of Dmitry Firtash, the company Centragas Holding AG (89,9659% stake in the Bank, Austria).
Comments
comments