In looted gold Pshonka mansion has a new owner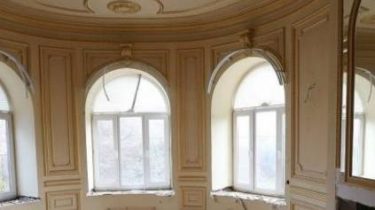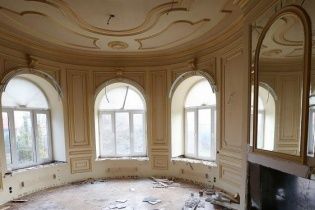 Three years stolen, and now secured and carefully put in order. Abandoned mansions of former Prosecutor General Viktor Pshonka and his son (both wanted by the Ukrainian justice) deposited with the activists of "Mezhyhirya." Bring order people plan a month later. Property Psenak in the village of Gorenichi near Kiev plundered all and Sundry.
This is stated in the plot of TSN.19:30.
To clear the possession Pshonka, who three years looted and destroyed, took more than a dozen people. Starting from eight in the morning. Are garbage, mow the grass, work in full swing.
Lived as the attorney General of the Yanukovych times, the whole country saw immediately after the revolution of Dignity. Here first came the activists, the men in camouflage that anyone inside is not allowed.
The luxurious interiors in the best traditions of the "Golden bad taste" icons at every step the relics of saints – now it's history. Only the so-called guards moved out as the gate and door wide open. The property, which could appear in case against ex-Prosecutor General, robbed and Sundry. But there is still something that is not stolen. For example, granite tiles. One piece is $ 100. Perhaps it is more expensive, than in "Mezhyhiria."
About the former owner except that resemble the photo on the floor. The whole house is one chair and one broken. On the walls inside-out sockets, broken tiles, shattered Windows and marble window sills. Mountains of debris. Full ruin. Guilty no one is looking.
The new security living in a trailer on the street. In the next week here is supposed to conduct electricity, connect the water. Work those who kept the "mezhigorye" Yanukovych. The commandant says all he has 250 employees, he pays them from 5 thousand UAH of a salary, and earn on tourists, up to 4 million UAH monthly. In the restoration of the possessions of Him they plan to invest with excursions.
Next to the house Pshonka-the father, the possession of his son, where they will also remove the community from "mezhigorya". By the winter, say, on the territory will be in perfect order. People hope that after the verdict saved their belongings will become the property of the state. The case is now in court. However, Pshonka-senior and Junior investigators found scant evidence of their illegal gain – appears only about 70 million UAH.
Valentine Mudryk
Videosbrianna of the estate Pshonka after robberies had deposited the community of "Mezhyhirya"
TSN. 16:45
Yesterday, 20:58
Facebook

VKontakte

Google+

1

Twitter

1

Viber
Comments
comments