In the occupied Crimea overturned the verdict of the Ukrainian political prisoner Baluku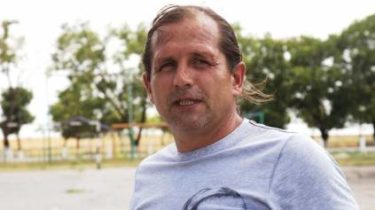 The self-proclaimed "Supreme court of the Crimea" overturned the conviction of Ukrainian activist Volodymyr Balukupreviously sentenced to 3.5 years in prison, and sent the case for re-investigation.
This was announced on his page on Facebook activist of the Ukrainian cultural center in the Crimea Mikhail Batrak.
"Only the Supreme court of Crimea overturned the conviction of Vladimir Baluku and sent the case for a new investigation," he wrote.
According to the lawyer Olga Dinze, her client has left the measure of restraint "detention", however, the defense will seek to quash it.
"The reason for the cancellation of the sentence that the judge had wrongly considered the statement of its withdrawal, because she had obvious interest in the consideration of this criminal case", – said Dinze.
She also said that the behavior of the judge called it a serious violation of criminal procedural law and returned the criminal case to the court of first instance for consideration in other structure.
The trial of Mr Baluch (Name is not leaning at the request of Vladimir). In the Supreme court of the Crimea held a hearing on the appeal on the conviction Mr Baloch issued by the judge of the district court Razdolnenske – N. And Bedricky. The verdict is cancelled, the case sent for retrial, Vladimir left the measure of restraint "detention". The lawyer of Vladimir, Olga Dinze commented on the court hearing and court order (Video) :
Published by Michael Laborer 2 Oct 2017
We will remind, in August the Ukrainian activist Volodymyr of Baluja in occupied to the Crimea was sentenced to 3 years and 7 months of prison and 10 thousand roubles of the penalty. The Ukrainian was accused of illegal storage of ammunition and explosives that were allegedly found in the attic of his house.
Comments
comments