In Parliament there was a fire, the meeting was adjourned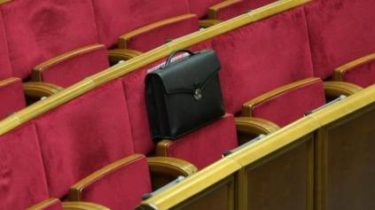 In connection with the ignition wiring in the building of the Parliament was declared in recess for 15 minutes.
This was stated by Vice-speaker of the Verkhovna Rada Oksana Syroid, RBC-Ukraine online reports.
"We'll break for 15 minutes, call the fire Department, electrical fire here …" she said during the meeting.
Until the break in the Parliament considered nearly 600 amendments to the pension reform.
Meanwhile, the MP from the faction "people's front" Alexander Sochka reported that the Parliament has already called the fire Department.
"In Parliament it smells like burnt. Syroid adjourned. Lit or not lit? Caused the fire," he said.
In Parliament stinks of burning. Rawfoodist announced a break. Lit or not lit? Called the fire Department. One of the versions is younger Dobkin Kure behind a pillar.
Published by Alexander Sochi 3 Oct 2017
Meanwhile, journalists complain that the smoke is audible even on the sidelines of Parliament.
In BP, stress the work of our deputies burned wiring)) Stan is already in lobby))) and can opened the portal to hell?)
Published by Dima Kachura 3 Oct 2017
We will remind, on Tuesday, October 3rd, the Supreme Rada adopted the judicial reform. For adoption of bill No. 6232 on second reading and in General voted 234 deputies out of 358 in the audience. After that people's deputies have started consideration of pension reform.
The meeting was extended until the adoption of the pension reform. A proposal to the vote made by the speaker of Parliament Andriy Parubiy. MPs worked without a lunch break and had to do it before the conclusion of the consideration of the pension reform.
Comments
comments