Poltorak and Muzhenko did not appear on the Committee for the consideration of the explosions in Kalinovka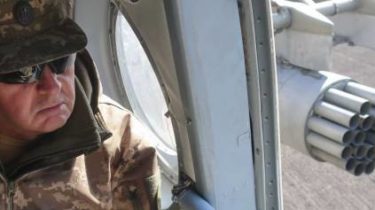 Defense Minister Stepan Poltorak and chief of General staff Viktor Muzhenko did not come to a meeting of the parliamentary Committee on national security, where the meeting was to consider the question of explosions in Kalinovka of Vinnytsia region.
About this at the meeting of the Committee, said its Chairman Sergey Pashinsky, reports Ukrainian Pravda.
"We invited the Minister of defence Stepan Poltorak and chief of General staff Viktor Muzhenko. Yesterday Poltorak informed me that he is today, he is on a working visit in Warsaw from Mr. Muzhenko no information about the reason for his absence we do not have," he said.
According to Pashinsky, the General staff had not complied with regarding the protection and preservation of the ammunition depots.
See also:
Conspiracy theory, sabotage or theft: 4 possible causes of explosions in military warehouses near Kalinovka
"Previously, we took a number of decisions: on the dispersal of depots and arsenals, the allocation of additional funds and another series of events. Over half the General staff was not made a single decision that we made," – said the MP.
He added that Muzhenko said the cause of the failure of the instructions that "Ukrzaliznytsya" does not give cars for the transportation of ammunition.
"Under the Charter of the APU, chief of staff – a soldier, who is personally responsible to government for military readiness and the safety of ammunition, equipment, fuel and other material resources", – summed up Pashinsky.
See also:
In the GPU called the main version in the case of explosions in ammunition depots in Kalinovka
Comments
comments