How Europe is funding terrorism. Coal from the Donbass in EU supply via Russia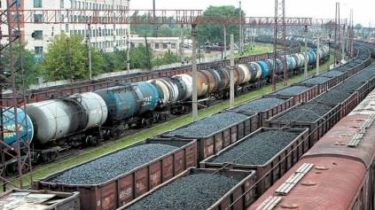 Coal from ORDO warm European countries. In deblokade times he went through Ukraine to Poland, Slovakia, the Balkans. But now the militants have invented other ways. However, Kiev this chain is not removed. We are talking about the profits of the terrorists in the tens of millions of euros.
This is stated in the story of Olga Wasilewska in the program TSN.19:30.
A Polish newspaper published the sensational data: Poland buys coal from the Donbass terrorists. Like, firm, registered in Katowice, has in its founders, brother of the former Deputy Minister of coal industry of so-called "LNR" Alexander Melnychuk. Ukrainian energy Minister after a meeting with Polish counterpart in shock.
"The first question was – coal. Very well he reacted. Said it was business. I said it's not business, it's the financing of terrorism", – said the Minister of energy and coal industry Igor Nasalik.
According to TSN, the Ukrainian export of coal from uncontrolled territories ended with the beginning of the blockade in February this year. All the owners of these companies – Donetsk and Luhansk – somewhere poischezali.
Videoenhancement terrorists: European countries still buy coal with ORDO
TSN. 19:30
Yesterday, 20:21
Facebook

VKontakte

Google+

Twitter

Viber
However, according to TSN, which he received through a paid database, Kiev firms still involved in export-import operations of coal from ORDA in Europe. The coal coming from the mines, occupied through Russia and into Belarus and then into Poland, Bosnia and Herzegovina, Slovakia. TSN data confirms the Minister Nasalik:
"He passed through the territory of Ukraine, but were formed by chains export of Ukrainian firms, which are registered in Ukraine. Firm could with Russia to purchase, the paperwork and transit Russia-Belarus and further to the Balkans, for example."
The same Melnychuk, who figures in the Polish investigation, conducts its operations, including through its Ukrainian company "Rovenkianthracite", which was in the apartment (Kiev, Darvina St., 6, office 4) where TSN hard not to let the janitor.
A journalist posing as a businesswoman of Slovakia and calls to the number listed in the database of founders of firm "Rovenkiantracit". Faces a citizen of the so-called "LNR". He explains that the supply of coal occur in Russia. During the conversation it turns out that the beneficiary of the Ukrainian and Polish companies for the supply of coal, the brother of former Deputy Minister, "LC" Melnichuk in Kiev. And the fact that the supply of Lugansk coal in Poland is confirmed.
TSN has sent requests to the competent authorities of Bosnia and Herzegovina, Slovakia and Poland with the request to comment on the facts of financing of terrorism. Waiting for a response from Ukrainian special services. But there is silence.
Earlier it was reported that Poland banned the purchase of coal from the occupied Donbass.
Comments
comments