Attempt number two: Parliament attempts to adopt a law on reintegration of Donbass. Online stream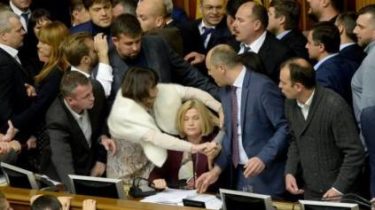 MPs today will try again to adopt a law on the reintegration of Donbass. Presidential bills are on the agenda.
Recall, October 4, the presidential bill on the reintegration of Donbass was submitted to Parliament. In particular, the document identifies the temporarily occupied territory in Donetsk and Lugansk regions. The project consolidates the priority of the security implementation of the provisions of the Minsk agreements. The bill specifies that Ukraine is not responsible for the illegal actions of Russia as an aggressor state, of its armed forces, other military formations and the occupation administration in the temporarily occupied territories. The document extends the law on special order of local government in ORDA.
5 October in the Parliament during consideration of the bill on the reintegration of Donbass started the brawl, which escalated into a fight. The deputies of "Samopomich", "Batkivshyna" and "Svoboda" opposed the bill and blocked the rostrum. The speaker closed the meeting. They point out that the document does not specify the date of occupation, did not mention all the occupied territories and noted that the profile Committee has considered the alternative presidential bill on the reintegration of the occupied territories.
Ukraine's President Petro Poroshenko at the meeting of the faction "BPP" has agreed that the second reading of the bill on reintegration should apply to Crimea, this question will contribute to the document.
Comments
comments