"From the look of embroidery blouse". Poroshenko harshly criticized the deputies in the Parliament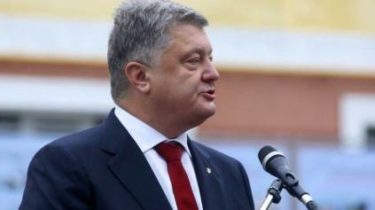 The actions of the parliamentary opposition provoke tensions with key allies of Ukraine.
Such an opinion in his treatment about the support of the Verkhovna Rada bills concerning Donbass expressed by President Petro Poroshenko.
The head of state accused the former political partners in the imposition of the country of course to withdraw from the occupied territories and the renunciation of millions of their own countrymen.
See also:
Poroshenko explained the importance supported by the Parliament of bills concerning Donbas
"Their actions provoke tension in the relations with our key allies. Threaten that you will stay with the aggressor alone, without the support of the world community. The head just does not fit what we saw yesterday and today in the Verkhovna Rada. Former partners in the democratic coalition, people who call themselves patriots, and even Ukrainian nationalists, tore the vote… And for what? To legally recognize Russia as the aggressor, and her troops – the invaders. As to the call "who does not jump", jump above all. How to vote for the obvious Ukrainian interest – as porobleno. And some even from under the shirts look shirts, on the heads sticking out kokoshniks", – said Poroshenko.
He stated that "the issues of sovereignty, territorial integrity and defense capability of Ukraine should unite all political forces, to remove the back partisan interests".
Recall that today, October 6, the Rada voted for the bill No. 7164 "On creation of necessary conditions for the peaceful settlement of the situation in certain districts of Donetsk and Lugansk regions". According to this Law temporarily for a period expiring one year from the date of entry into force of the Law of Ukraine "On creation of necessary conditions for peaceful settlement of the situation in certain districts of Donetsk and Lugansk regions" is a special procedure of local self-government in certain districts of Donetsk and Lugansk regions, which include districts, cities, towns, villages, determined by the decision of BP.
In addition, 233 MPs voted in the first reading for the bill No. 7163 on the reintegration of Donbass. From the previous presidential version was removed the mention of the Minsk agreements. This clarification concerns the fact that throughout the text of the bill to remove all provisions which referred to the Minsk agreements, replacing them with the resolution of the UN security Council adopted in connection with the Russian armed aggression in the Donbas.
Comments
comments