Hrytsak said the amount of Russian mercenaries PMC "Wagner" fighting in the Donbass from 2014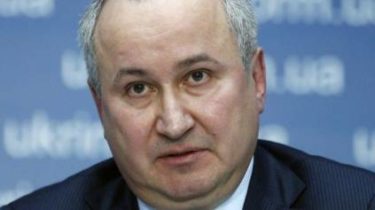 Mercenaries PMC "Wagner" took part in the conflict in the Donbass in 2014, and they are involved in the tragedy of IL-76.
This was during the briefing said the head of the SBU Basil Gritsak.
Hrytsak said that the armed conflict in our country and in Syria have "private military companies". According to him, the SBU established the involvement of mercenaries PMC "Wagner" in the conflict in the Donbas from 2014. To date, established the identity of 1587 members of the PMC Wagner. According to the SBU, mercenaries "Wagner" involved in the tragedy of IL-76, assault Lugansk airport and debaltseve.
See also:
In the SBU told how many Ukrainians are part of Russian gang of mercenaries "Wagner"
From August 2015, the PMC mercenaries in the amount of 1350 people were sent to Syria – in the region of HOMS and Latakia for the offensive operations.
In addition, Hrytsak said that 277 people from "Wagner" and fought in the Donbass, in Syria. In particular, the SBU has evidence of the activities of "Wagner" in the Donbass. SBU put that with large probability they have the right not only to their names and passport numbers, and phone numbers.
"Today, we have established 1587 persons – members of PMC Wagner in General quantitative structure, what we see now – about 5 thousand persons. the Geography of the Ukraine, it is IDLO June 2014 – August 2015 years, then Syria – August 15, 2015 – the cities of HOMS, Hama, Latakia, Damascus, Palmyra," – said the head of the SBU.
According to him, the training base of the Russian private military company located in the Krasnodar region of the Russian Federation. "It's 10 brigade of special purpose of the Main Directorate of the Russian General staff. This project allows Russian security services of Kremlin policy, to speak confidently to the public and the international community the phrase: "They are not there" or "We did not send them there" – this project", – said Hrytsak.
We will remind, recently the militants of the "Islamic state" executed two Russian soldiers caught them in captivity in Syria. In particular, the two Russian soldiers who were in Syria executed militants "DL" was a contract private military company known as "PMC Wagner".
Videorussian killed almost 40 civilians in Syria
TSN. 12:00
5 Oct, 12:36
Facebook

VKontakte

Google+

Twitter

Viber
Comments
comments