Walker has lifted the veil on negotiations with Surkov in Belgrade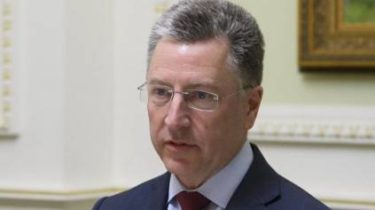 Special envoy of the US state Department in Ukraine Kurt Volker believes that the main purpose of the meeting with Russian presidential aide Vladislav Surkov in Belgrade October 7, is the extension of the negotiation process on the situation in the Donbas and peacekeeping missions.
He declared it in interview "to the Newspaper.ru".
"To begin with – to continue these negotiations. This is the main point of my meeting with Surkov," said Walker.
According to the diplomat, the key idea of an international peacekeeping mission is ensuring security in the conflict zone.
"I think we have some common goals – the sovereignty of Ukraine and security for the local population. How can we achieve this, we will discuss on 7 October in Serbia. To put it bluntly, in the East of Ukraine are now at war in a hot stage. Thousands of dead, millions of people who have fled their homes. It's a real tragedy that Russians and Ukrainians are at war with each other. This is bad both for Russia and for Ukraine ", – he said, adding that the mission of the peacekeepers will be the basis for the implementation of the Minsk agreements and guarantee of the protection of the Russian-speaking population in the Donbas.
Separately, Walker said he was ready to discuss with Surkov, the possibility of deliveries to Ukraine lethal weapons.
"We are ready to discuss ready to discuss, Mr. Surkov, in the sense of the meeting. In my opinion, the situation in the following. In accordance with article 51 of the UN Charter, every country has the right to defend themselves. The only fighting that is now taking place, are on the territory of Ukraine. I think that country has the right to defend itself, " he concluded.
We will remind, the first meeting Surkov with Volker held on August 21 in Minsk.
Earlier the President of Ukraine Petro Poroshenko appealed to the UN initiative to deploy a peacekeeping mission in the Donbas. The Ukrainian side insists that the peacekeepers should be present throughout the occupied territory of Donbas, including Ukrainian-Russian state border.
Comments
comments