Walker Surkov and talked about the Donbass region in Serbia because the Russians are not allowed in the EU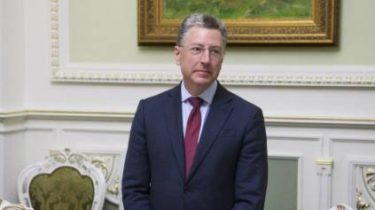 In the Serbian capital Belgrade today, October 7, met the special envoy of the U.S. state Department on Affairs, Kurt Volker, a Russian presidential aide Vladislav Surkov. Behind closed doors they talked about ways to peace in the Ukrainian Donbas and the UN peacekeeping mission. Details and results of meeting not yet known.
Talks in national television reported the foreign Minister of Serbia Ivica Dacic, reports "air force Ukraine". The head of the Serbian diplomacy believes that this meeting is "the rate of change and improving the international position of Serbia".
At the same time, the Serbian media believe that this meeting takes place in Serbia since Surkov is on the list of Western sanctions and unable to enter the EU.
At the same time, Serbia supports the territorial integrity of Ukraine, but refuses to join EU sanctions against Russia. Synchronization of foreign policy of Serbia with the EU and introduction of sanctions against the Russian Federation are part of the negotiations of Belgrade with Brussels. The foreign policy of the Belgrade media are often called "sitting on two chairs", i.e. the attempt to please both the EU and Russia.
We will remind, in September, the former U.S. Ambassador to Russia John Tefft said that Walker and marmots can discuss at the meeting the issue of the UN peacekeeping mission in the Donbas. Sam Walker had previously stated that he plans to discuss with Surkov, the issue of restoration the territorial integrity and security of Ukraine.
The first meeting Surkov and Walker took place on August 21 in Minsk. Then the assistant of the Russian President called the meeting constructive.
The other day , Walker called verhovnoy adopted by the Verkhovna Rada of Ukraine draft laws on the reintegration of Donbass "hard steps to peace".
Comments
comments