The stolen tomatoes from Yanukovych and disco from Peskov. As "congratulated" Putin on the anniversary in the comic cartoon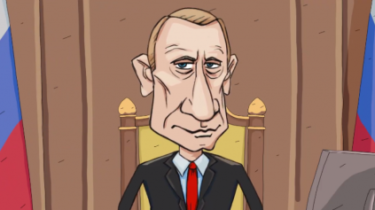 Birthday of Russian President Vladimir Putin in the Network appeared a funny cartoon.
The video was published on his page in Facebook opposition politician Mikhail Khodorkovsky.
In the story, the animation, the Russian leader congratulations with the 65th anniversary of the Prime Minister of the Russian Federation Dmitry Medvedev, the head of "Rosneft" Igor Sechin, the former President-the fugitive Victor Yanukovych, opposition leader Alexei Navalny, the blogger Yuri Dude and Khodorkovsky himself. Each of them has prepared for Putin's gift.
Vladimir Vladimirovich,happy birthday!
Based on almost real events:
Published Mikhail Khodorkovsky October 6, 2017
Thus, the press-Secretary of Russian President Dmitry Peskov in pink tights set for Putin's group dance, disco, and the President-the fugitive Yanukovych stole for him a few tomatoes from the supermarket.
See also:
Duck sorry. As in the Network laugh at the soaked photo of Putin and Medvedev
The video also mocked Putin's active rest: trips , riding Topless and flying in the role of alpha-crane.
Recall that with the 65th anniversary of the head of the Russian Federation "congratulated" in Kiev. In the center of the Ukrainian capital naked Femen activist in the image of Marilyn Monroe with the tombstone Putin on the back climbed on decompensirovanny the monument to the heroes of the October revolution and sang the song "Happy birthday, Mr President".
Comments
comments