Erdogan arrived on Bankova to Poroshenko appealed to the Ukrainian military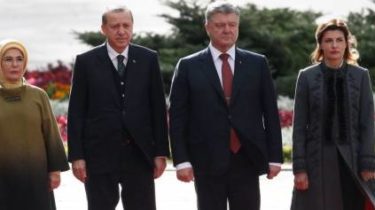 Turkish President Recep Tayyip Erdogan arrived at the presidential Administration of Ukraine for talks with Poroshenko.
About it reports the UNIAN.
Poroshenko and his wife Marina met Erdogan and his wife Emine on the porch of the administration on the red carpet. Orchestra of the guard of honor of the President played the national anthems of Ukraine and Turkey.
Erdogan on Ukrainian language were welcomed by the honorary guards. "Vitayu won," said the President of Turkey.
Extremely happy to welcome my friend, Turkish President Recep Tayyip Talks in Kiev.
Posted by Petro Poroshenko on Monday, October 9, 2017
Also on the porch lined up a Turkish government delegation and members of the Ukrainian government.
During the visit, Erdogan will be the sixth meeting of the Strategic Council of high level between Ukraine and Turkey co-chaired by the leaders of the States. The parties will discuss ways of deepening bilateral cooperation in all strategic directions, as well as issues of international peace and regional security. Following the meeting of the Strategic Council is expected to sign several bilateral documents.
Comments
comments