More money: Ukrainian MPs want a pay raise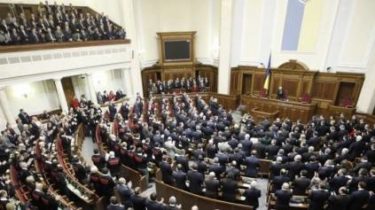 In Parliament registered a draft resolution that could raise wages to people's deputies of the Verkhovna Rada.
Document No. 7172 "On financial provision of activities of people's deputies of Ukraine" was registered on October 5, writes "Ukrainian truth".
It is expected "to set the size of salaries of people's deputies at the level of the salaries of Cabinet members based on the size of the subsistence minimum established for able-bodied persons on 1 January of the calendar year."
One of the authors of the decree, V. a. the Chairman of procedural Committee of the Rada Pavel Pynzenyk, "there are two provisions of the law on the status (MP – ed.), regulating the remuneration of labor of people's deputies of Ukraine and none of them performed."
"As of today, salaries for MPs, no, because salary is set by the Verkhovna Rada decision, and this decision it is not accepted. As of today, all have the same size – a little more than 17 thousand hryvnias", – he said.
It is also stated that the conditions of labour MPs are equal members of the Cabinet.
According to Pynzenyk, the decision regulates the above questions.
"In order to have a time stability of legal regulation, the binding is done to a living wage, which is changing with time, accordingly may change the amount of wages the people's Deputy", – said the MP.
The draft resolution proposes that the ratio will be 10(MP) to 12 (speaker BP) subsistence minimum as of 1 January of the current year (as of January 1, 2017 – 1600 UAH -ed.)
The document also provided that decisions of committees (budgetary and procedural) to the people's Deputy are carried out by the Verkhovna Rada of increases in base salary in the amount established for the members of the Cabinet.
The authors of the draft resolution except Pynzenyk are deputies: Mr Oreshenkov (fraction of PPB), Oleg Kuprienko (Radical party), Dmitry Lubinets (PPB), Svetlana wojciechowska (people's front), Vladyslav Danilin (people's front), Irina Efremova (people's front), Paul Keskar (BPP), Michael Pope (Opposition bloc), Sergey Shakhov ("the will of the people").
The current salary of the Minister of energy and coal industry Igor Nasalik for September amounted to 46.7 thousand. Out of the funds received the official salary of a Minister amounts to 16 thousand hryvnia.
The wages of the Minister of culture Eugene Nischuk-September amounted to 40.5 thousand.
Video settings next year the Cabinet will raise the minimum wage by 16%
TSN. 19:30
22 Sep, 20:27
Facebook

3

VKontakte

1

Google+

Twitter

Viber
As you know, October 20, 2016 the Verkhovna Rada voted to increase salaries of MPs.
So, it was planned that the wage of the MP is 25 minimum wages, equivalent to 36 thousand 250 hryvnias.
On 31 October, the Verkhovna Rada speaker Andy paruby said that after consultations with heads of fractions abolished the corresponding increase in wages.
Comments
comments