Klitschko called the date of the beginning of the heating season in Kyiv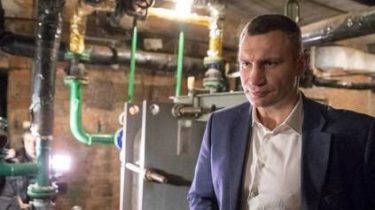 Monday, October 16, in Kiev will begin to apply heat to the flats.
The beginning of the heating season, announced the mayor of the capital Vitali Klitschko.
"We are starting to turn on the heating when the average daily outside temperature drops below 8 degrees Celsius. Now the temperature is higher, however, the views of the people of Kiev were divided: part of requests to turn the heating on, others say you should wait and thus save money. Now schools, hospitals and kindergartens are connected at their request. And next Monday we are launching heating system to supply heat to homes in the city. Technologically need 7-10 days to have the system fully started and worked effectively," – said Klitschko.
The mayor recalled that he appealed to the government to reduced gas prices for kindergartens, schools and hospitals. Today for public entities natural gas price is 7.9 thousand UAH per thousand cubic meters. At the same time, the tariff for thermal energy production price of natural gas is 4,94 thousand UAH per thousand cubic meters.
"There is a financial difference in the cost of natural gas, which does not provide a source of repayment. This entails the occurrence of additional debt of heat supply companies for the consumed natural gas the city of Kiev and threaten a secure and stable passage of the heating season. The city government of Kiev could not afford to in the current situation of hostages of the difference in rates of steel 514 kindergartens, 483 schools, 150 hospitals and a number of social protection institutions. Kiev insists that at the level of the Cabinet of Ministers of Ukraine initiated the meeting, which will be promptly solved this question", – reads the statement of the mayor.
Recall the heat in the house have already begun to apply in Vinnytsia, Lviv and other cities, mainly in Western Ukraine, where more than cooler than in other regions.
Comments
comments